Cette énorme créature marine morte a échoué sur une île et tout le monde capote
Des images en ligne d'une énorme carcasse qui a échoué sur le bord d'une île indonésienne captivent le monde entier.
Le Jakarta Globe considère le corps massif et pourri comme un calmar géant et a rapporté que c'est un résident de l'île Seram qui a découvert la créature de 49 pieds.
Trois experts de la vie marine ont indiqué au HuffPost que l'animal semble plutôt être une sorte de baleine mysticète (à fanons).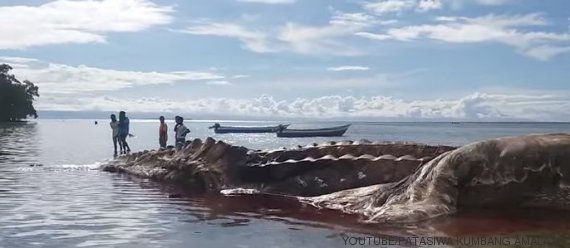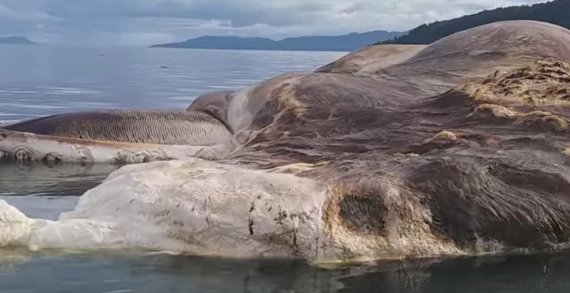 «Les calmars géants sont des invertébrés et il y a clairement des os, alors je suis très à l'aise de dire que c'est un type de baleine rorqual», a indiqué la directrice exécutive de l'organisme Whale and Dolphin Conservation, Regina Asmutis-Silvia.
«Certaines espèces de baleines mysticètes (rorquals) ont des "rainures ventrales" qui se déploient de leur menton jusqu'à leur nombril. C'est un tissu extensible qui s'étend quand elles se nourrissent», a-t-elle ajouté.
Elle a identifié ces rainures dans les images et a aussi inclus des photos sur lesquelles elle pointe ce que'elle croit être l'os de la mâchoire et le crâne.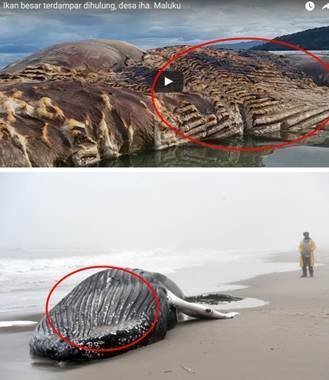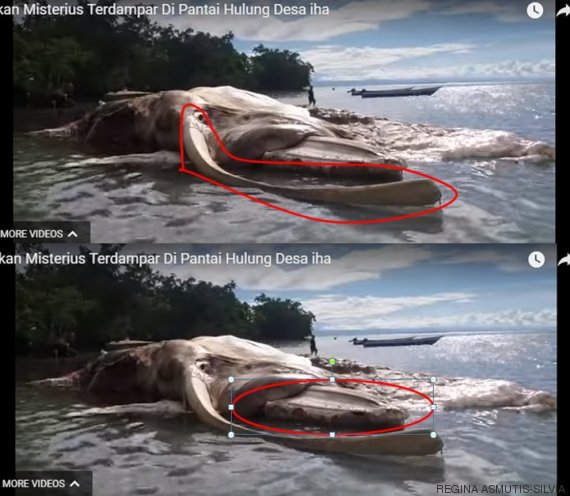 Edith Widder, directrice générale et scientifique senior à l'Ocean Research & Conservation Association, aux États-Unis, a précisé qu'il était difficile d'affirmer cela seulement à partir d'images, mais que certaines photos montrent de quoi ont l'air des baleine à fanons.
«Je suppose que c'est un cétacé à fanons (mysticètes)», a-t-elle déclaré.
George Leonard, scientifique en chef à Ocean Conservancy, a dit de son côté qu'il pensait initialement que l'animal pouvait être un calmar géant, mais qu'il a convenu que c'était probablement une baleine après avoir vu les images soulignant les os et les fanons.
«Essayer d'identifier des créatures océaniques énormes de l'autre bout du monde à partir d'une vidéo granuleuse est quelque chose de difficile à faire; mais une fois que des personnes partagent des informations spécifiques qui commencent à circonscrire des caractéristiques de la créature, l'identification se précise peu à peu», a-t-il expliqué.
La séquence filmée montre le corps en décomposition changeant la couleur de l'eau en un rouge profond.
Les résidents locaux ont demandé au gouvernement de venir les aider à retirer le corps, a rapporté le Globe.
a giant
unidentified
dead thing
is decomposing off the coast of the indonesian island of seram

and nobody
knows
what
it
is pic.twitter.com/zPjpyOtdjJ

— Nick Andersen (@nicktheandersen) 12 mai 2017
Ce texte initialement publié sur le Huffington Post États-Unis a été traduit de l'anglais.
LIRE AUSSI:
» Plus de 400 baleines s'échouent en Nouvelle-Zélande
» On a découvert une baleine échouée qui avait 30 sacs de plastique dans l'estomac
» Une baleine échouée depuis 24 heures secourue avec succès