Des moments pareils ne peuvent être capturés qu'une seule fois.
Même si 2013 aura regorgé de moments forts qui feront bientôt le tour des publications, voici une collection d'images uniques, des bribes d'instants qui pourraient ne jamais se reproduire. Que ce soit un sourire inattendu, une explosion toute proche, ou même un moment récurrent n'ayant jamais été capturé à un angle aussi parfait, ces photos ont toutes été prises au moment adéquat. Certaines d'entre elles symbolisent parfaitement l'année 2013.
ATTENTION: certaines images ci-dessous peuvent heurter.

1. Le premier match de criquet sous terre de l'Histoire.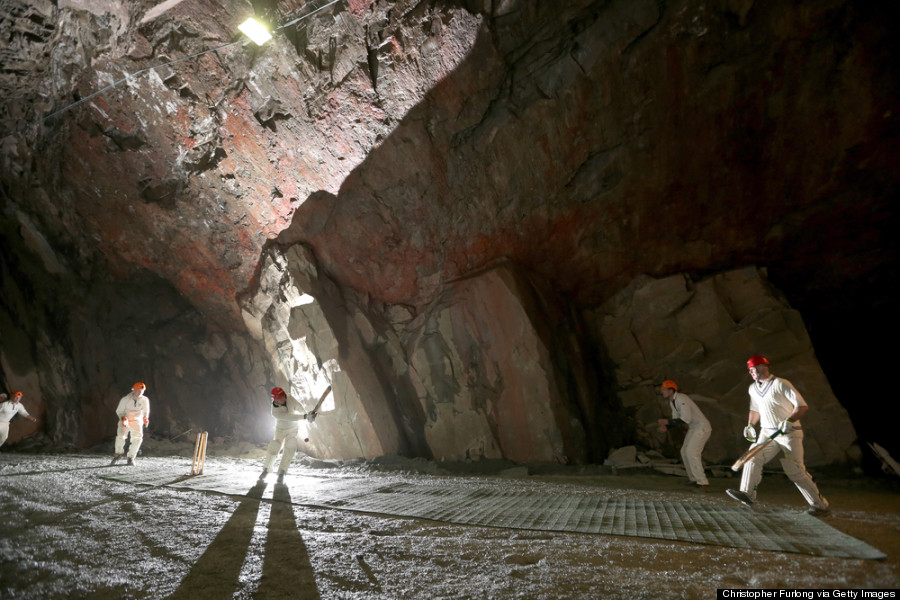 5 décembre: Le premier match de criquet sous terre au monde se tient à 2000 pieds de la surface de la mine d'ardoise d'Honnister, en Angleterre. Des équipes des villages de Threlkeld et Caldbeck ont disputé ce match afin de récolter de l'argent pour réparer les dommages provoqués par une inondation sur le terrain de criquet de Threlkeld. Caldbeck a gagné le match.

2. Voir des rebelles syriens à travers une télé.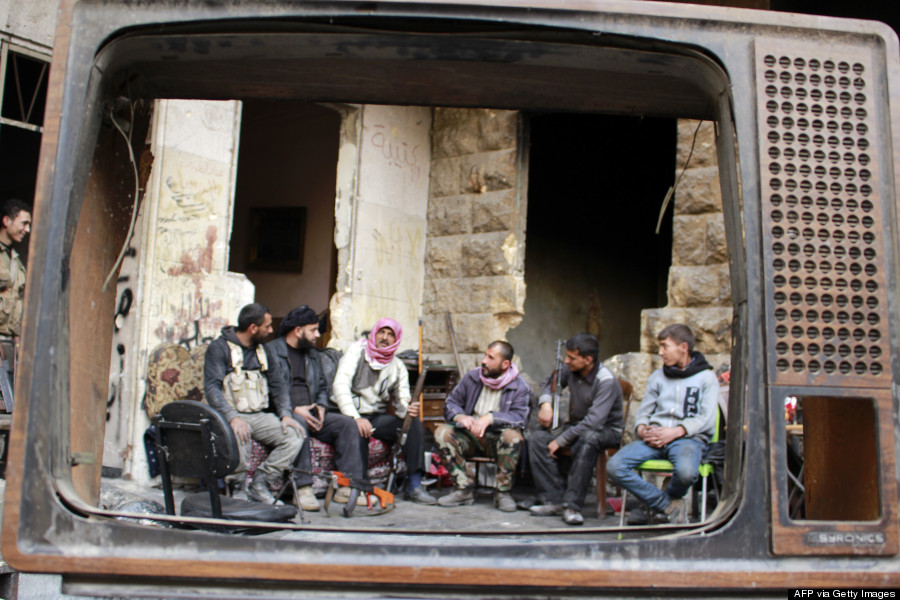 6 novembre: pris en photos à travers le cadre d'un téléviseur cassé, des combattants rebelles discutent de leurs plans avant une bataille contre les soldats pro-régime à Alep, en Syrie. Plus de 126 000 personnes sont mortes dans le conflit syrien depuis mars 2011.

3. Du surf sur un requin baleine capturé.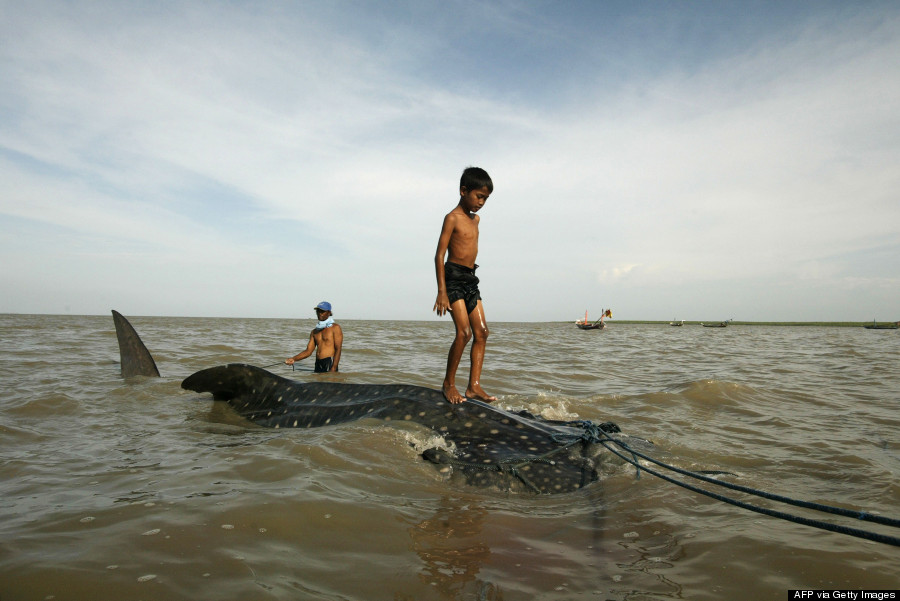 22 octobre: Un requin baleine est traîné vers la côte de Surabaya, à l'est de l'île de Java, après avoir été capturé par un filet de pêche. Le jeune garçon se tient en équilibre sur le requin baleine, qui n'est pas en danger de disparition mais consiédéré comme "vulnerable."

4. Faire un gigantesque doigt d'honneur au gouvernement.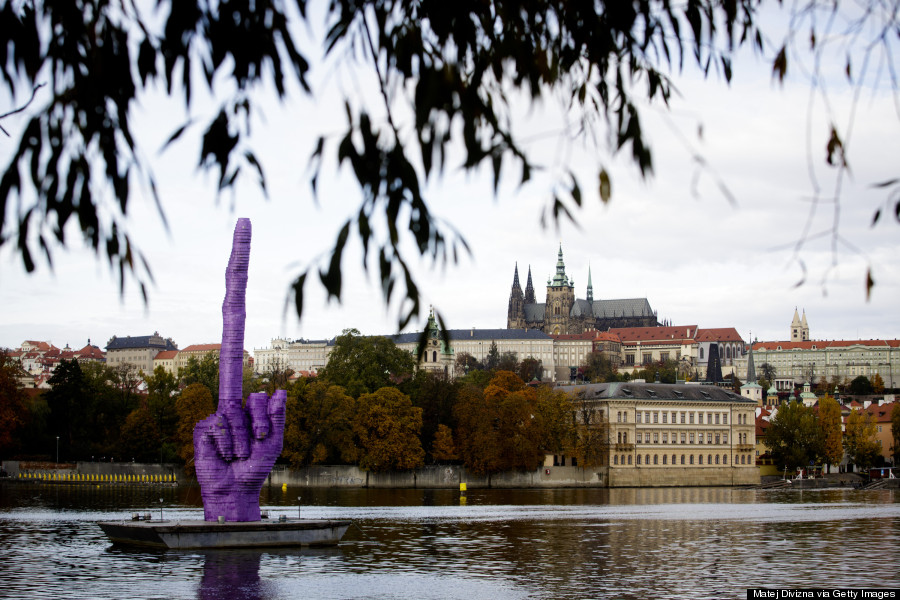 21 octobre: Un majeur mauve géant créé par l'artiste tchèque David Cerny flotte sur le Vltava. Il est tourné vers le château de Prague, où travaille le président tchèque Milos Zeman.

5. Le coup de pompe des pompiers.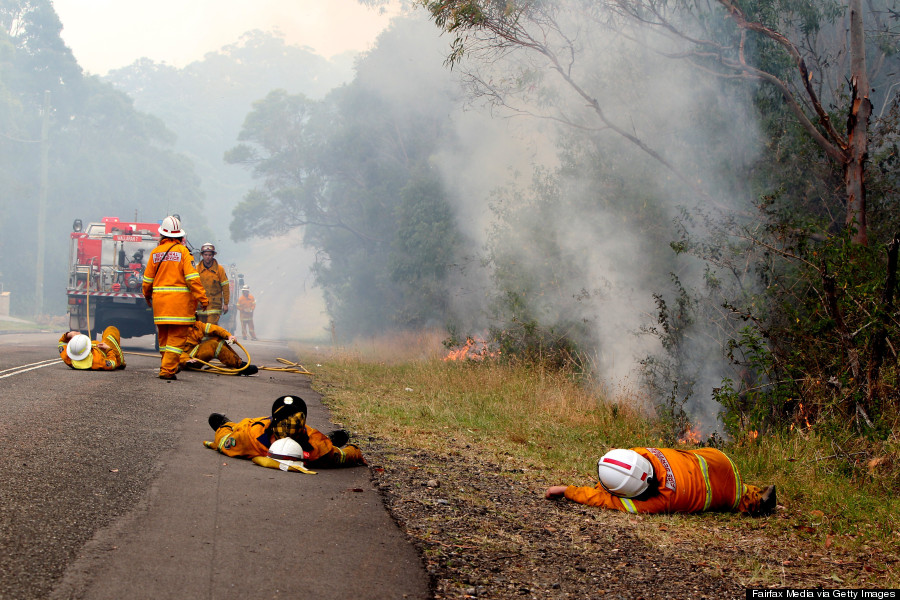 18 octobre: Épuisés après avoir combattus un feu de buisson à Nords Wharf, en Australie, ces pompiers se reposent sur la chaussée avec leur équipement. L'incendie a causé des dégâts humains et matériels.

6. Un tir de gaz lacrymogène.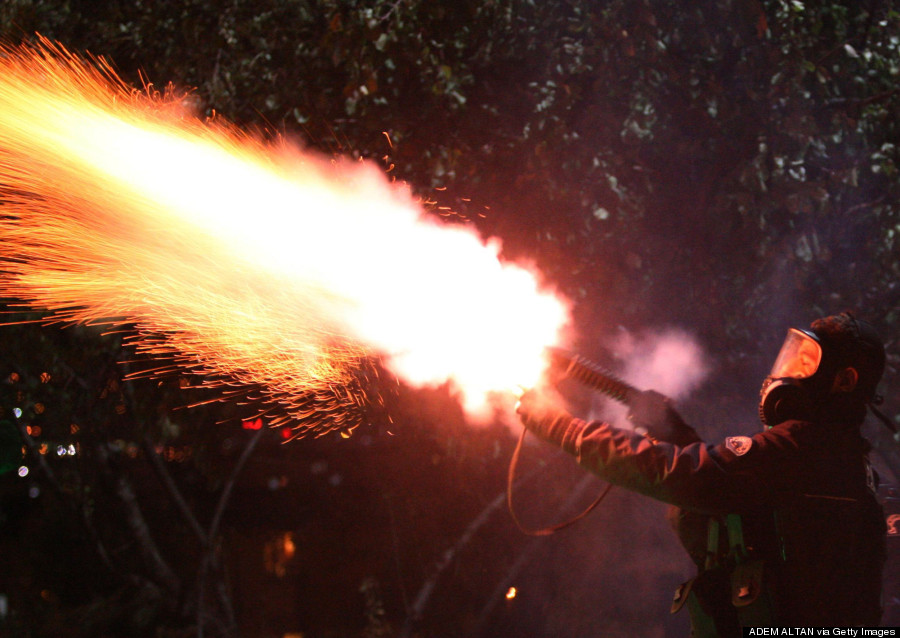 18 octobre: la police turque jette du gaz lacrymogène pour disperser les étudiants protestant contre les plans de reconstruction d'une partie de campus.

7. La mort d'un chameau.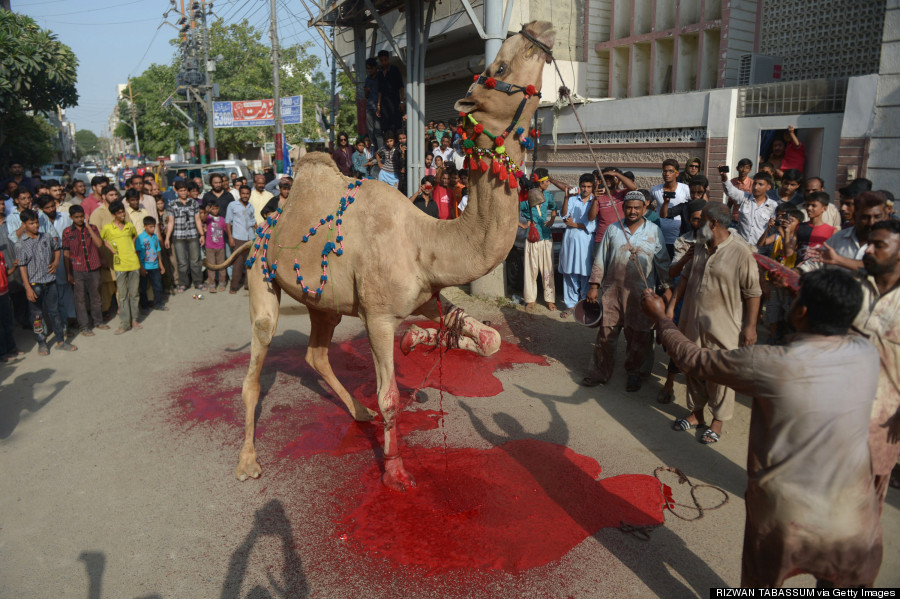 17 octobre: au Pakistan, des bouchers égorgent publiquement un chameau pour fêter le deuxième jour du festival de l'Eid al-Adhal. Le «festival du Sacrifice» musulman marque la fin du pèlerinage du Hajj commémore la volonté du prophète Abraham de sacrifier son fils.

8. Pape François, la rock star.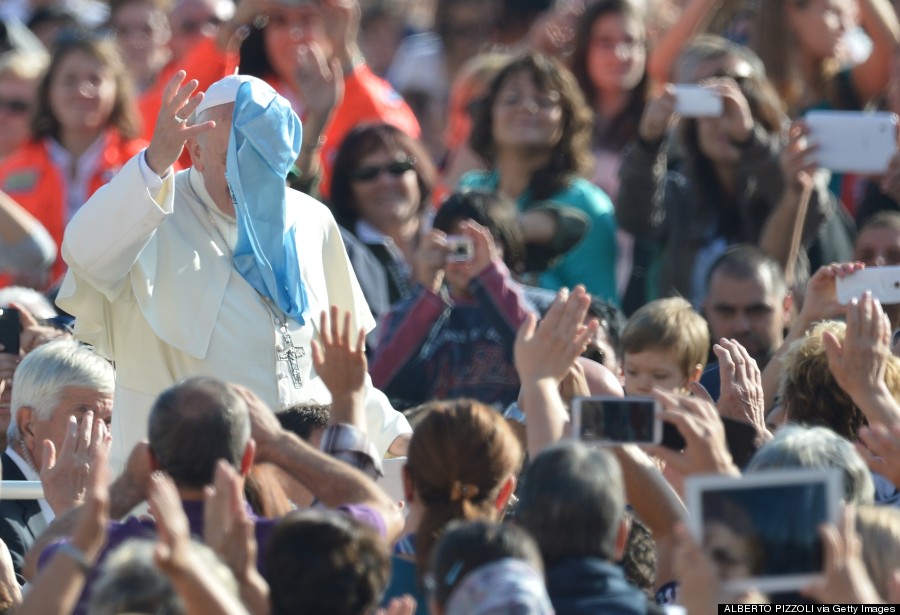 16 octobre: sur la place Saint-Pierre, un pèlerin jette une écharpe en cadeau au pape François. Malheureusement, le pape François n'a pas vu l'écharpe arriver vers lui et celle-ci est venue se coller à son visage.

9. Le jockey boueux.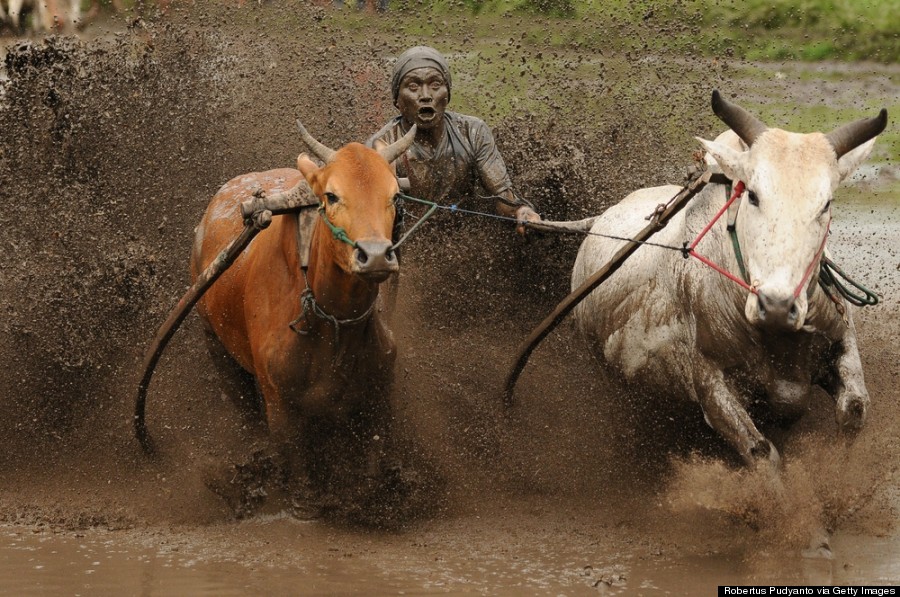 12 octobre: Pacu Jawi est une course de taureaux traditionnelle se tenant annuellement à Batusangkar, en Indonésie. Les jockeys se tiennent aux queues de leurs taureaux et glissent sur la boue sur une planche en bois. Les taureaux sont ensuite vendus aux enchères.

10. Le sacrifice d'un végétarien pour sa ville.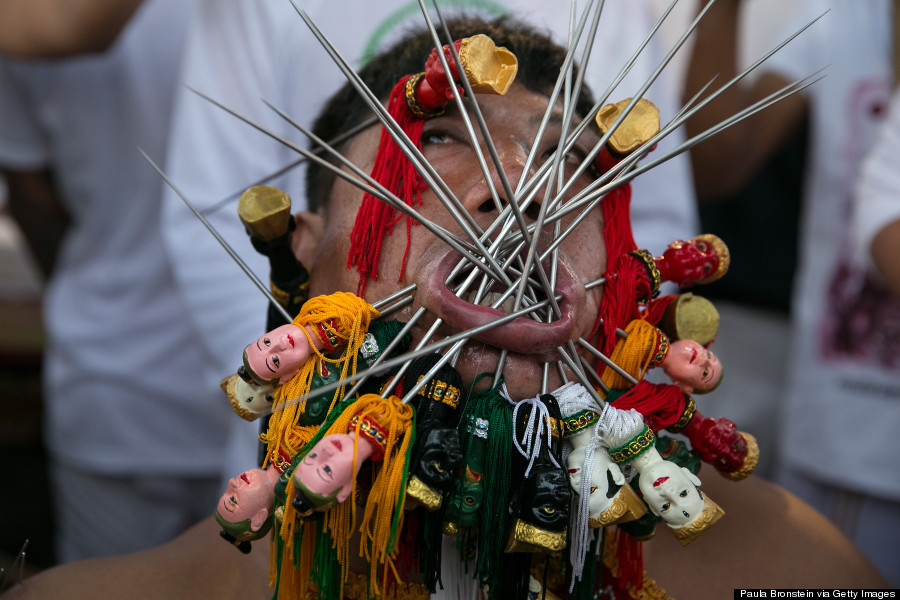 10 octobre: Phuket, en Thaïlande, héberge un festival végétarien où les praticiens se percent pour faire fuir les esprits malins de la communauté et d'eux-mêmes. Cette sorte de végétarisme remonte aux années 1800 en Thaïlande.

11. Seules restent les sandales.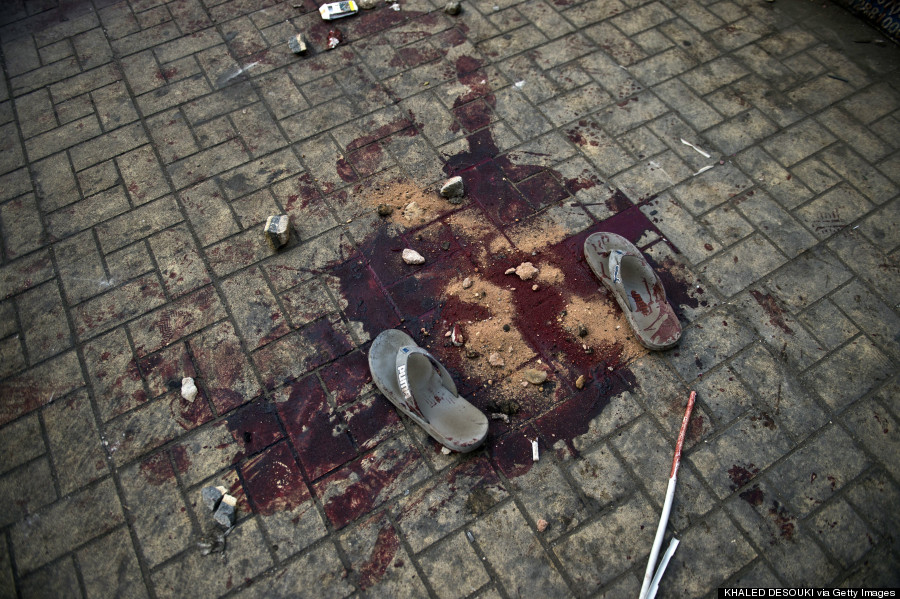 6 octobre: le sang tache la rue après des affrontements entre la police anti-émeutes égyptienne et les supporteurs du président islamiste déposé Mohammed Morsi. Les défenseurs du président tentaient de se joindre à une manifestation anti-Morsi sur la place Tahrir, au Caire.

12. Fuir une explosion.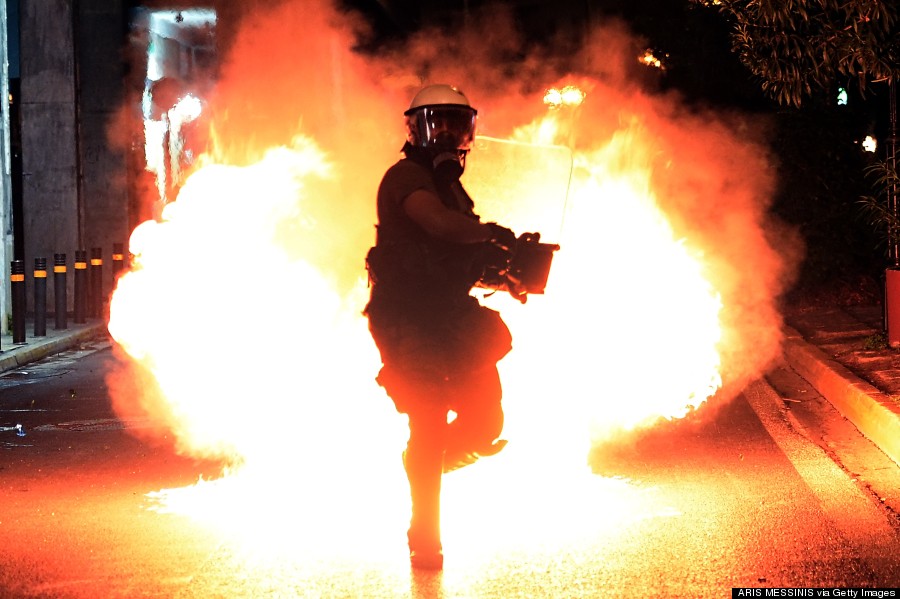 25 septembre: un policier grec fuit l'explosion d'un cocktail molotov, jeté par un manifestant. Les émeutes ont éclaté après le meurtre d'un musicien anti-fasciste par un néo-nazi autoproclamé. Les combats ont pris place non loin du siège du parti néo-nazi Aube Dorée.

13. La nuit avant le 11 septembre.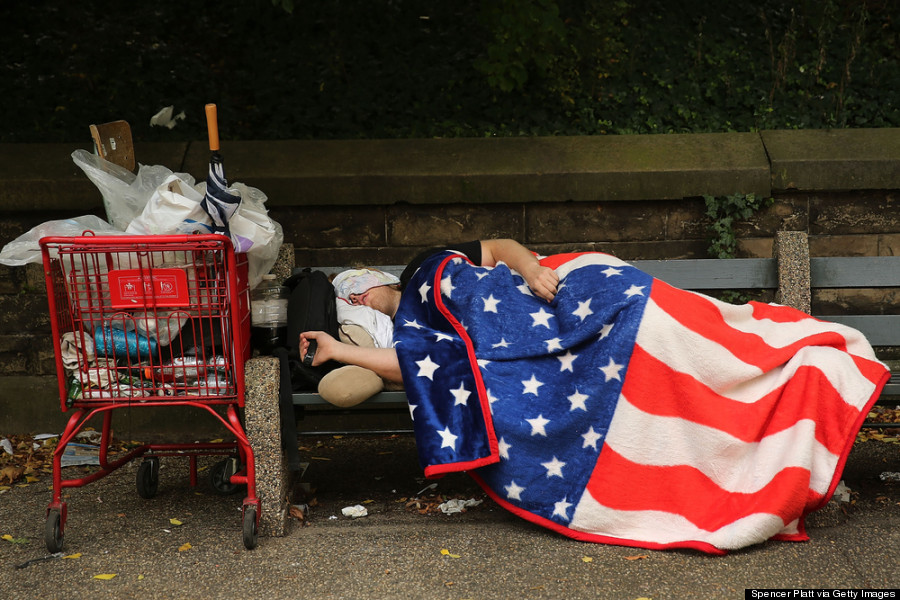 10 septembre: Un jour avant l'anniversaire des attaques du 11 septembre à New York, un sans-abri dort sous une couverture aux couleurs du drapeau américain. 2013 a été une année record pour le nombre de sans-abri à New York.

14. S'embrasser dans une tempête de tomates.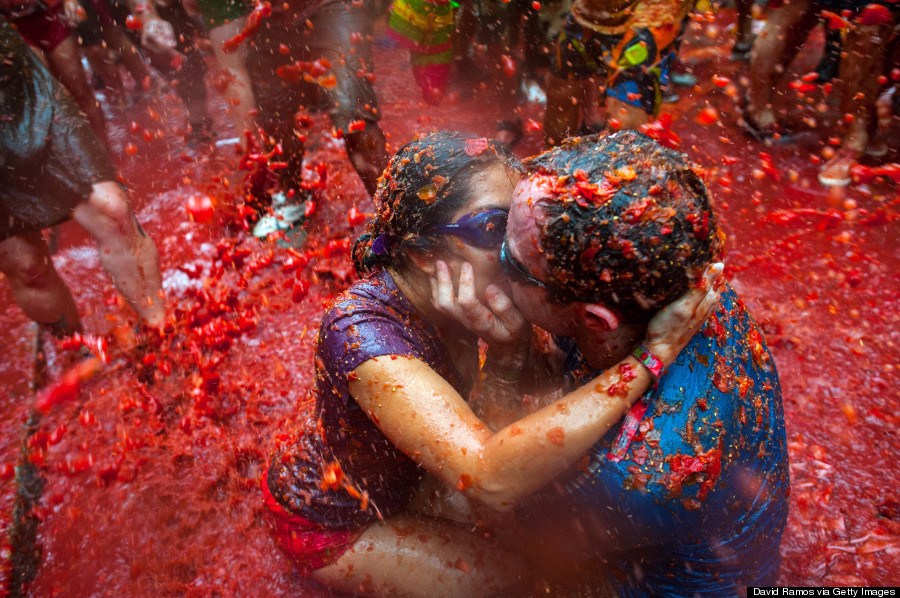 28 août: Environ 130 tonnes de tomates mûres ont été lancées par 20 000 participants du festival de la tomatina prenant place à Bunol, en Espagne. Ici, des amoureux s'embrassent au milieu de la bataille.

15. Le rose et la boue.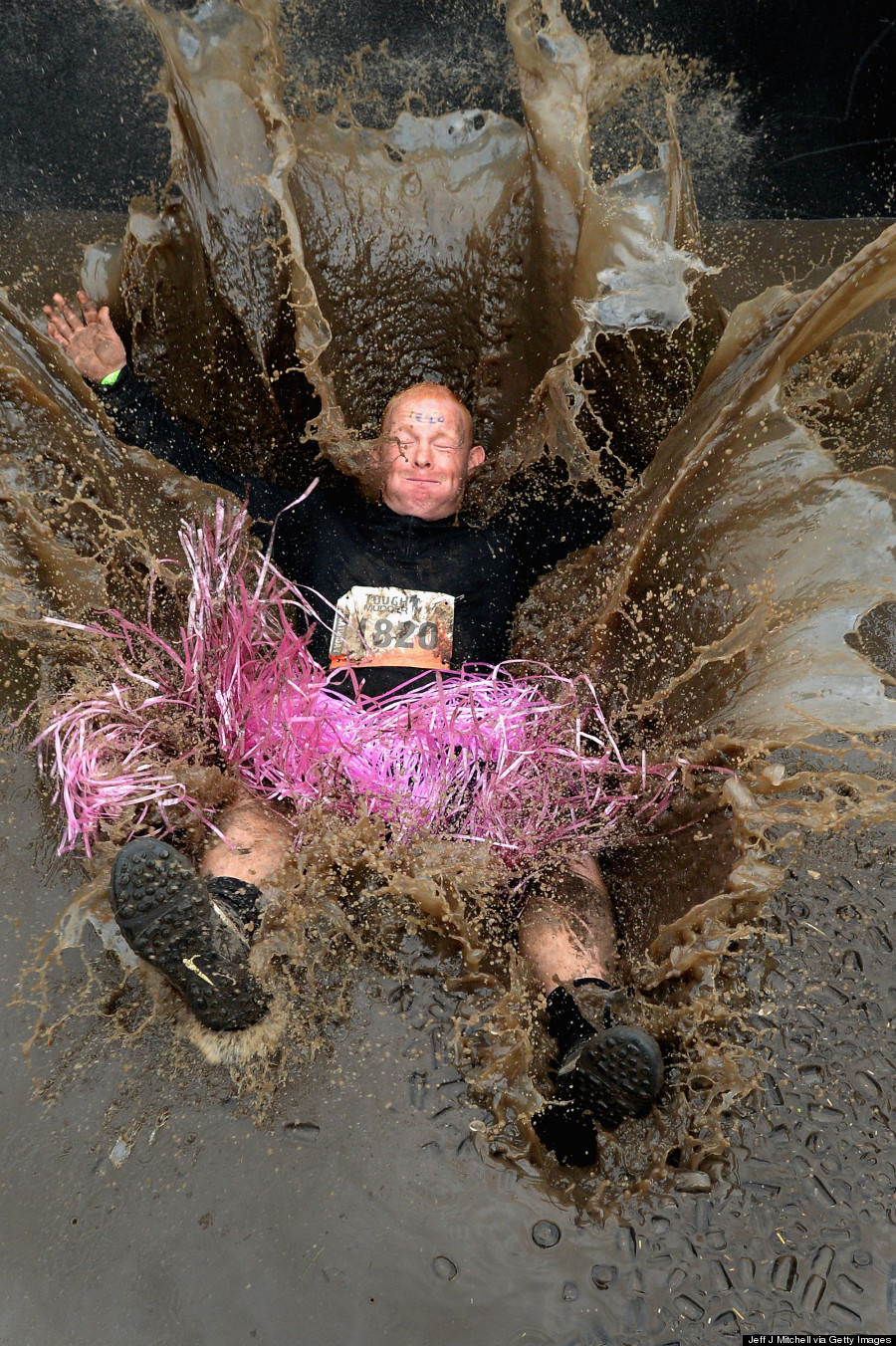 24 août: Un homme tombe dans la boue lors d'une compétition Tough Mudder à Edinbourgh, en Écosse. La compétition consiste en une course sur plusieurs kilomètres incluant des obstacles militaires et beaucoup de boue.

16. Juste avant d'être assailli par des manifestants.
Mi-août: Le photo-journaliste d'Animal New York Aymann Ismail prend une photo juste avant d'être attaqué par des supporteurs des Frères Musulmans en Égypte. Les manifestants ont finalement pris son appareil photo et l'ont forcé à marcher avec eux sur des kilomètres, menaçant de le frapper à plusieurs reprises. Il a finalement récupéré son appareil photo, après qu'un cousin faisant partie de l'équipe organisatrice a parlé aux manifestants par téléphone.

17. Fausses armes, violence réelle.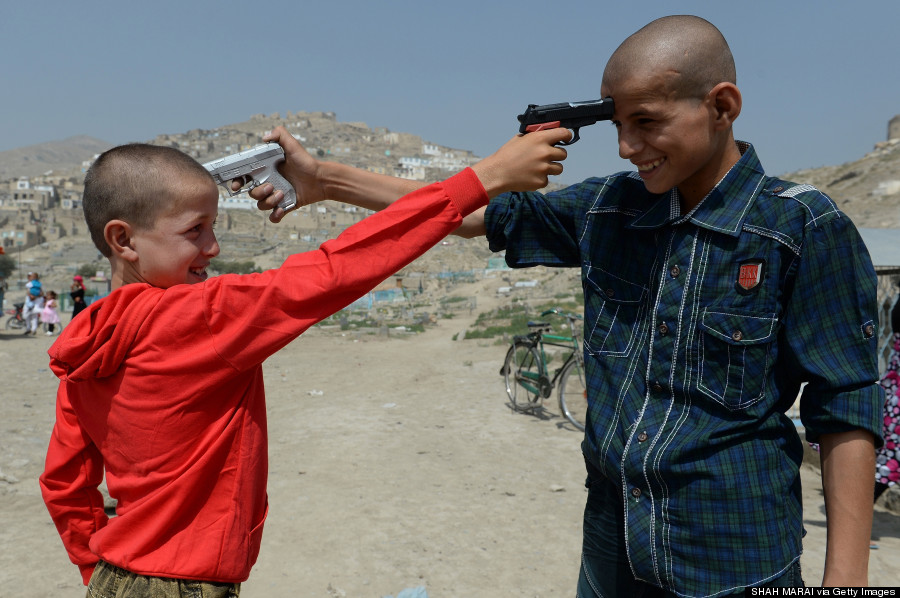 8 août: Deux jeunes enfants en Afghanistan se pointent avec de fausses armes. Les meurtres de civils ont augmenté de 23% au premier semestre 2013.

18. Se tenir à ce qui reste.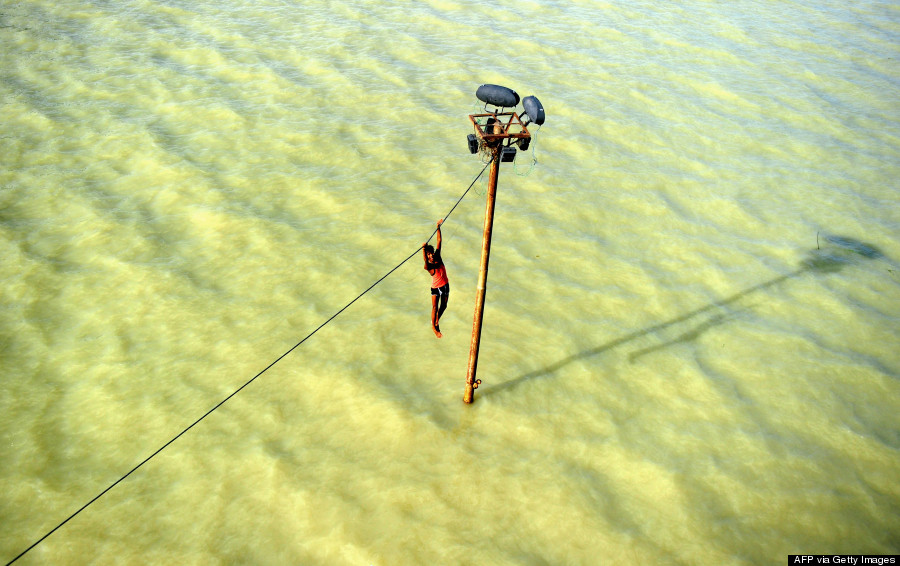 6 août: Un jeune Indien se tient à un câble électrique pour rester au-dessus du fleuve Gange inondé à Allahabad. L'enfant est finalement tombé dans le fleuve, où des milliers de personnes sont mortespendant la mousson.

19. Fêter la victoire au détriment de l'autorité.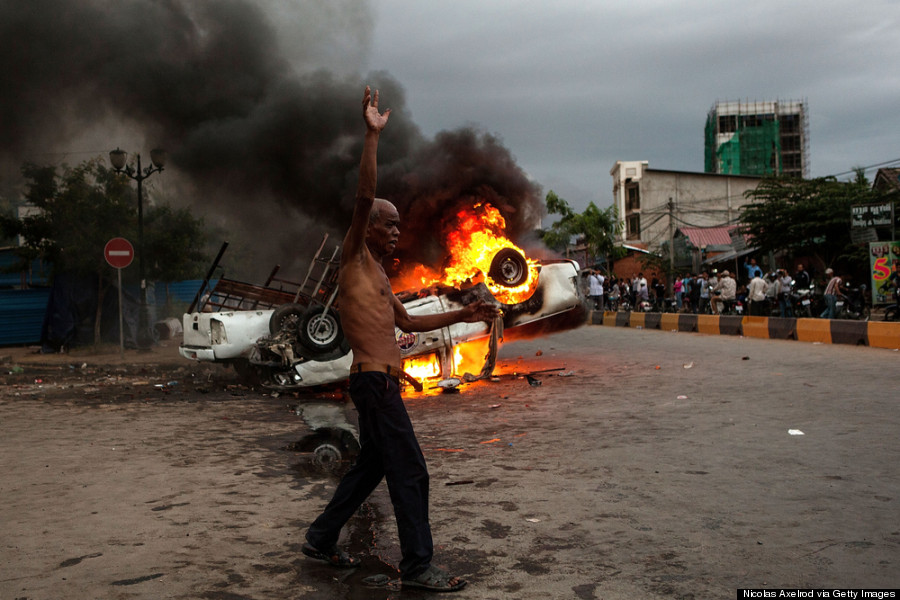 28 juillet: Un Cambodgien fête la destruction de plusieurs voitures de police après une explosion de protestations pendant les élections. Des votants avaient détenu captif un employé du Comité national des élections qui avait discriminé certains votants. La police a dû faire face à de violentes protestations en tentant de porter secours à l'employé.

20. Un beluga embrasse un Backstreet Boy.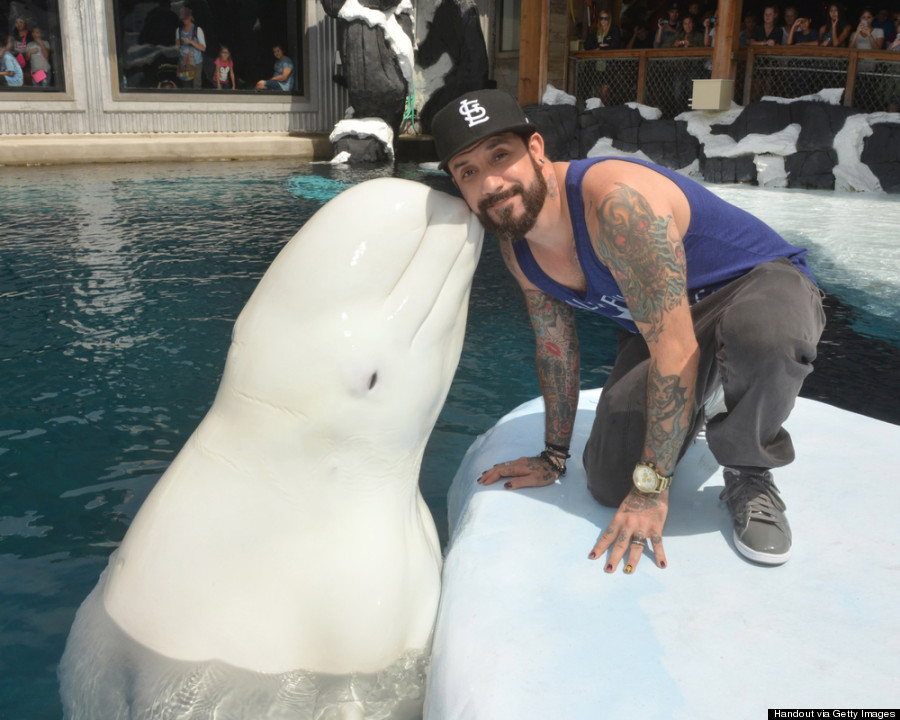 12 juillet: le Backstreet Boy A.J. McLean reçoit le baiser d'un beluga à SeaWorld San Diego..

21. Spiderman le laveur de vitres.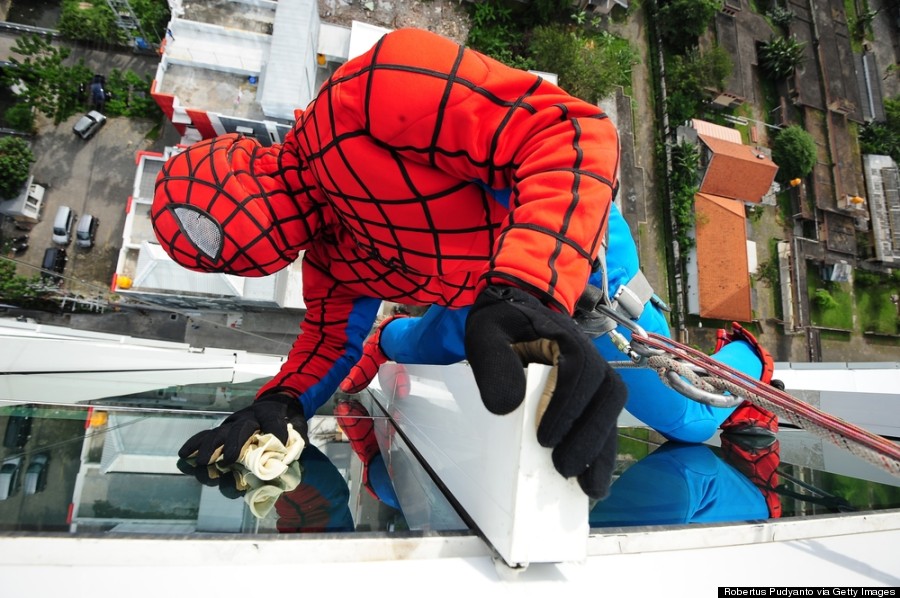 July 12th: Un Indonesien de 37 ans est surnommé «Spider-Man le laveur de vitres». On le voit ici nettoyer les vitres de l'hôtel Alana à Surabaya, en Indonésie.

22. Le visage de la peur.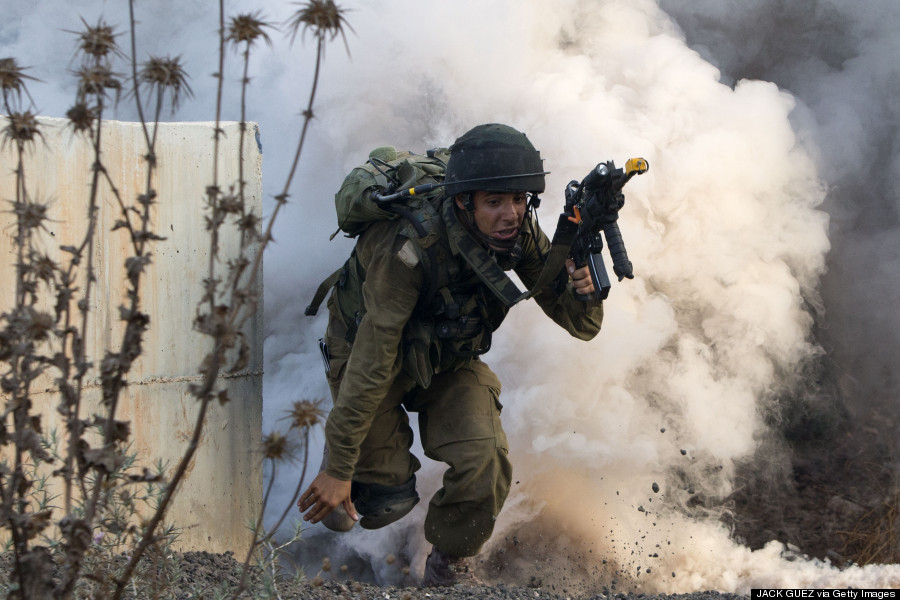 11 juillet: Bien qu'il s'agisse d'une exercice de simulation de combat urbain, l'expression de peur sur ce soldat d'infanterie israëlien est bouleversante. L'exercice est prévu pour simuler un combat contre le Hezbollah libanais.

23. Cascades dans le «Puits de la mort».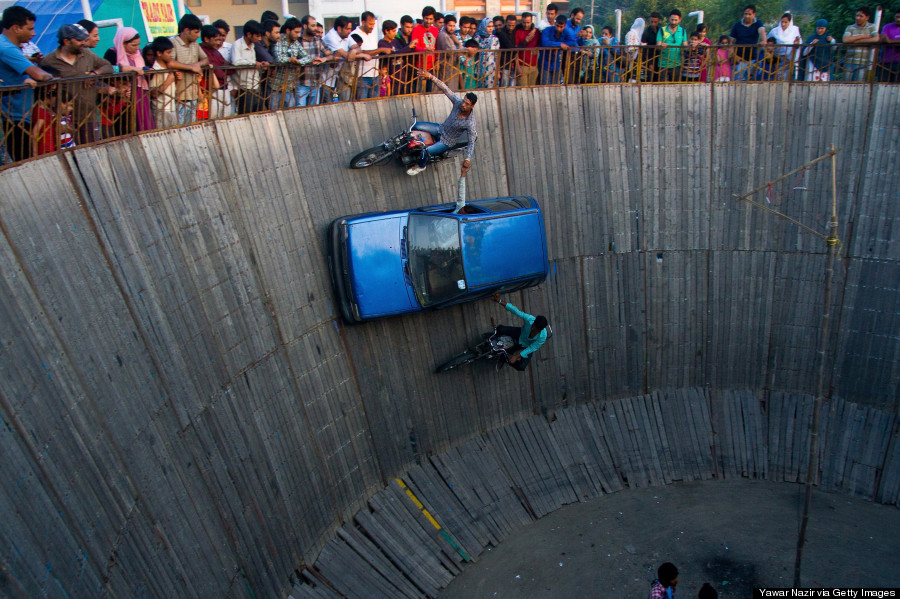 20 juin: Un pilote et deux motards effectuent une cascade dans le cylindre de bois appelé «Puits de la Mort». il est possible de voir un de ces performances ici.

24. Un moment avant le baiser du gaz.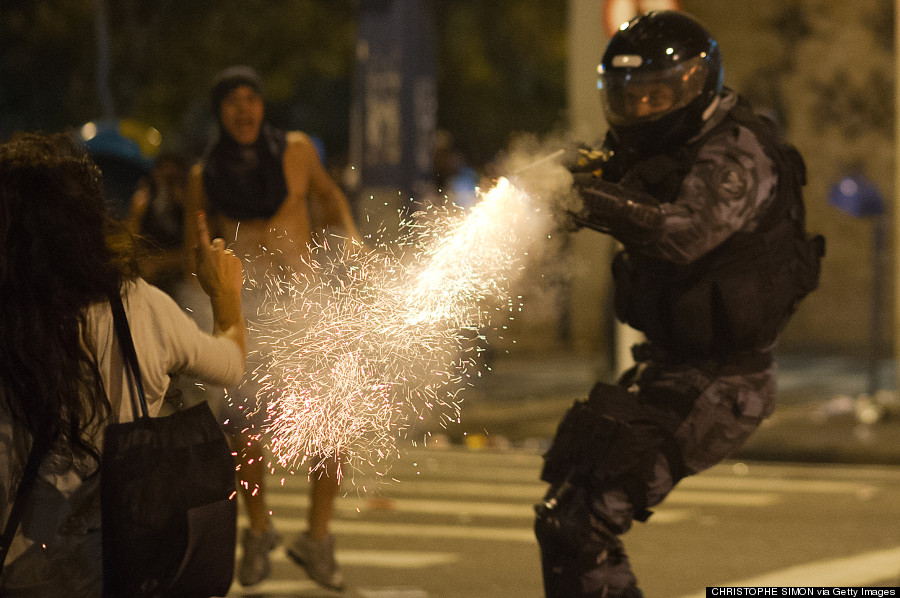 19 juin: Une femme est atteinte par le gaz lacrymogène lancé par un policier brésilien. Les Brésiliens sont descendus dans les rues après des hausses de prix dans les transports en commun.

25. Les pleurs après la destruction.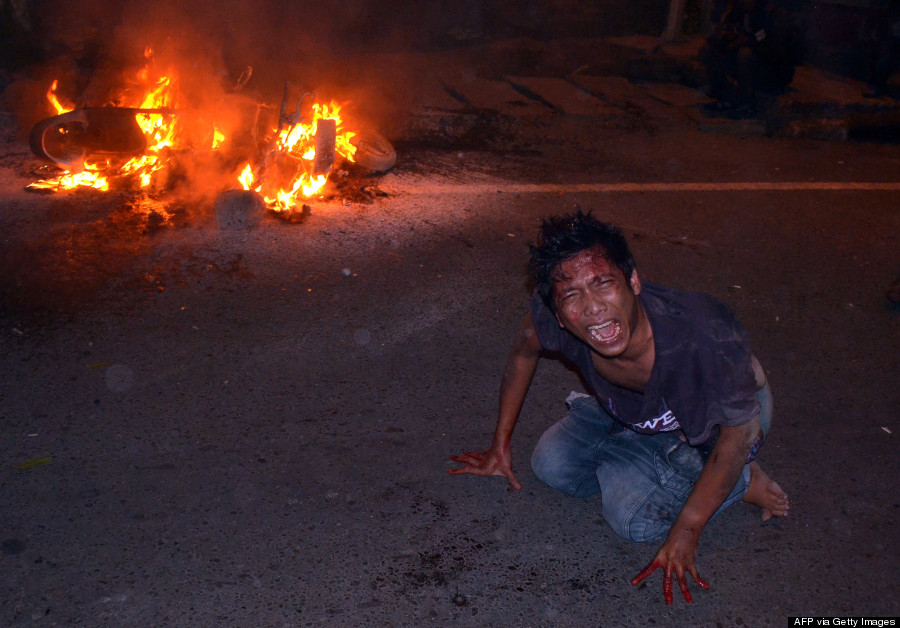 18 juin: des protestations ont éclaté dans la province de Medan, au nord de Sumatra, en Indonésie, en réaction aux fortes augmentations du prix de l'essence. Bien qu'on ne puisse pas le voir sur la photo, le manifestant blessé s'adresse à la police anti-émeute.

26. Un pigeon et un corbeau.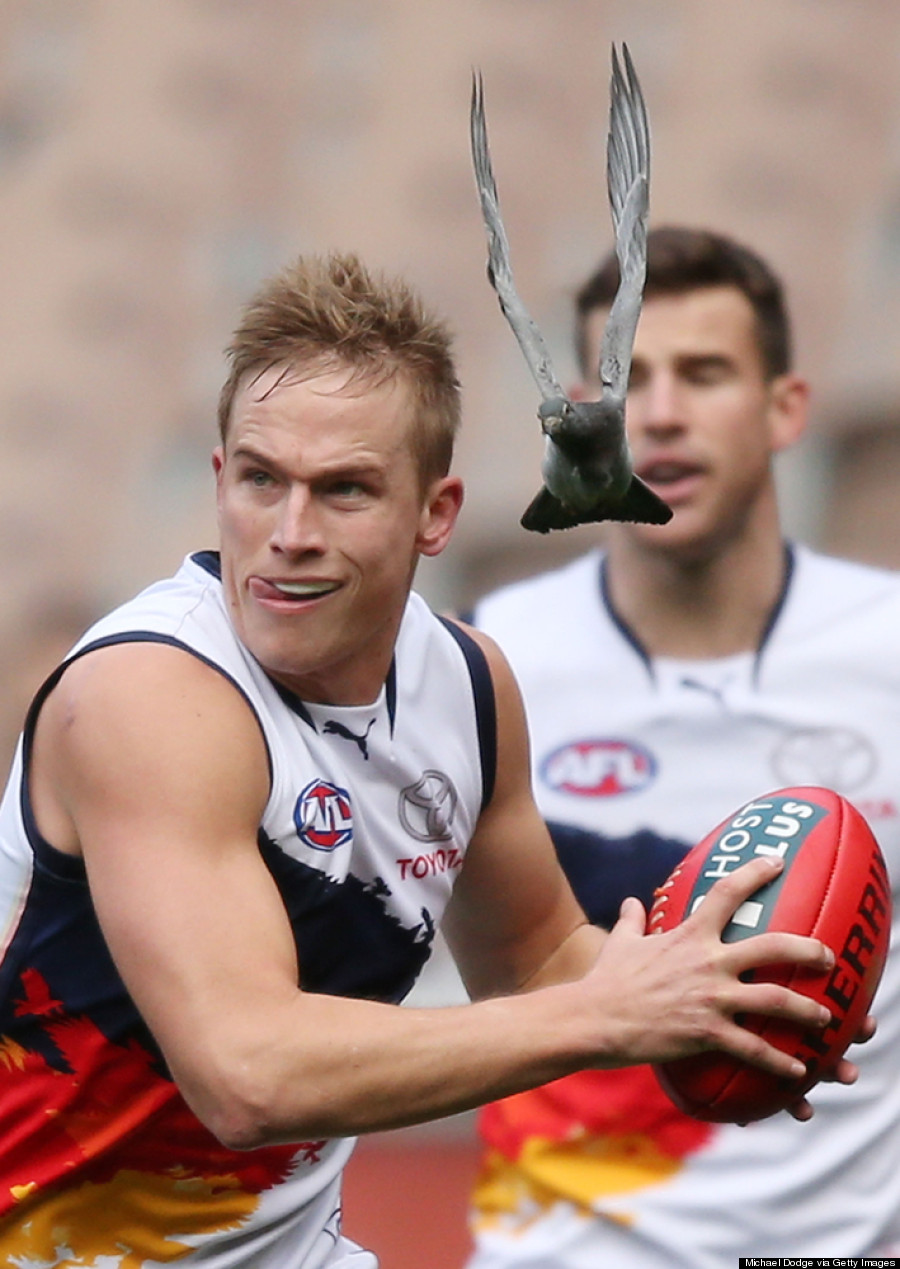 15 juin: Lors d'un match de football australien à Melbourne entre les Richmond Tigers et les Adelaide Crows, Bernie Vince, des Crows, est frôlé par un pigeon.

27. Coup bas en Russie.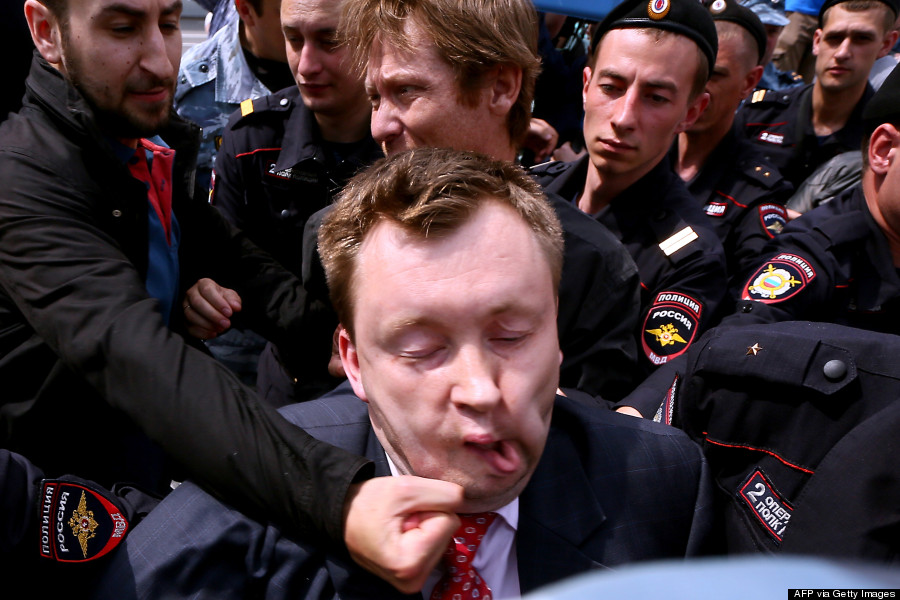 25 mai: Nikolaï Alekseïev, activiste LGBT, est frappé par un manifestant anti-gai à Moscou. Les persécutions anti-gais en Russie a provoqué l'indignation à travers le monde en 2013 et amené une partie de la communauté internationale à se demander si les Jeux olympiques de Sotchi 2014 seront sécurisés pour les athlètes gais.

28. Immolation au Sri Lanka.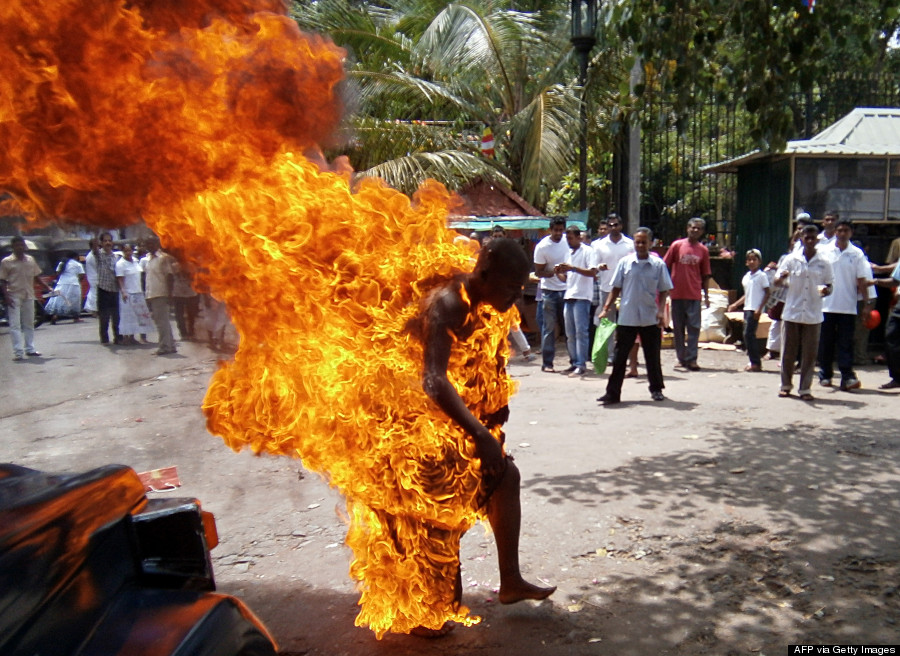 24 mai: En signe de protestation contre le massacre du bétail au Sri Lanka, le moine bouddhiste Bowatte Indaratane s'immole par le feu. Des douzaines d'immolations ont eu lieu cette année, dont de nombreuses au Tibet.

29. Unis face au désastre.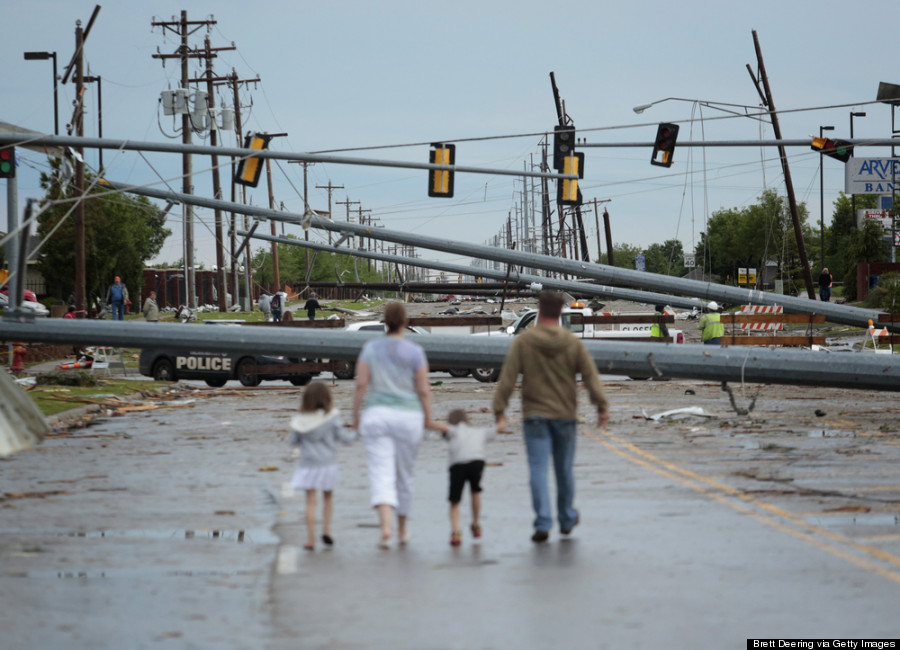 21 mai: Une famille marche sur Sante Fe Avenue à Moore, dans l'Oklahoma, après le passage d'une tornade qui a fait 23 morts et des centaines de blessés. Les dommages subis par la commune ont été estimés à 2 milliards$.

30. Un nazi provocateur.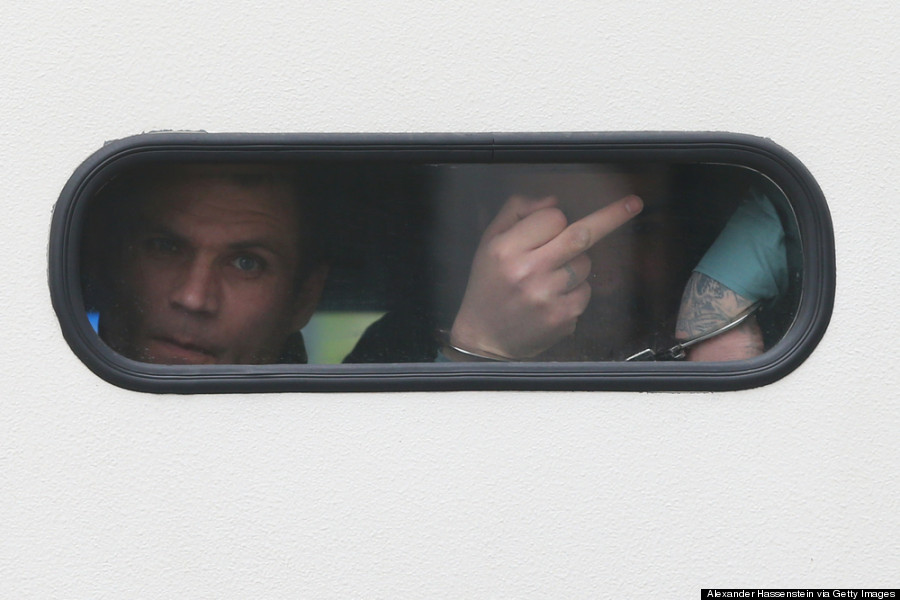 6 mai: Un homme arrivant à la Cour de Justice de Munich, en Allemagne, fait un doigt d'honneur à l'objectif. Ce jour-là se tenait une série de procès pour des affaires de meurtres impliquant des néo-nazis.

31. Spectateur du feu.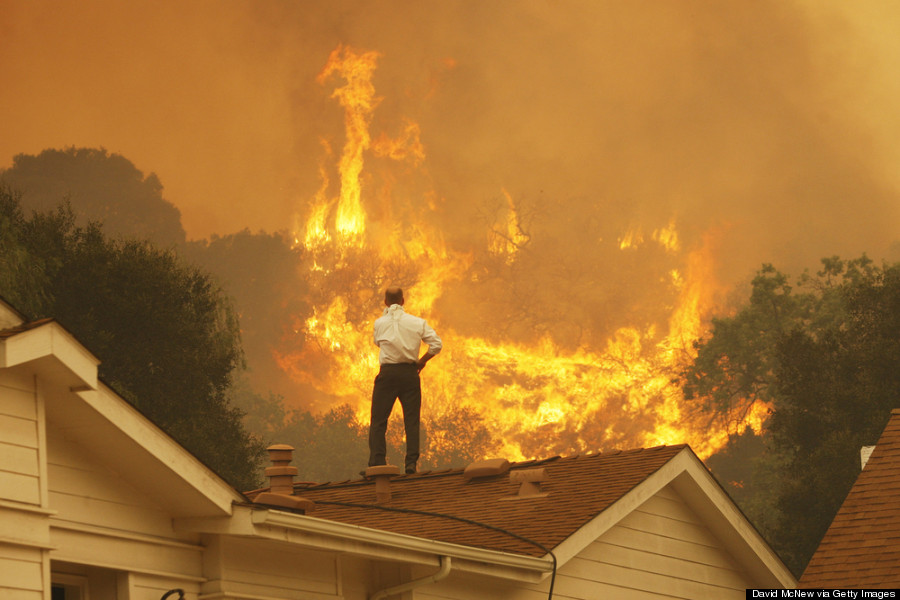 3 mai: L'incendie de Camarillo, en Californie, approche devant les yeux d'un homme posté sur le toit de sa maison. L'incendie 24,251 a réduit plusieurs hectares en cendres.

32. Le visage de Poutine tandis qu'une femme seins nus l'attaque.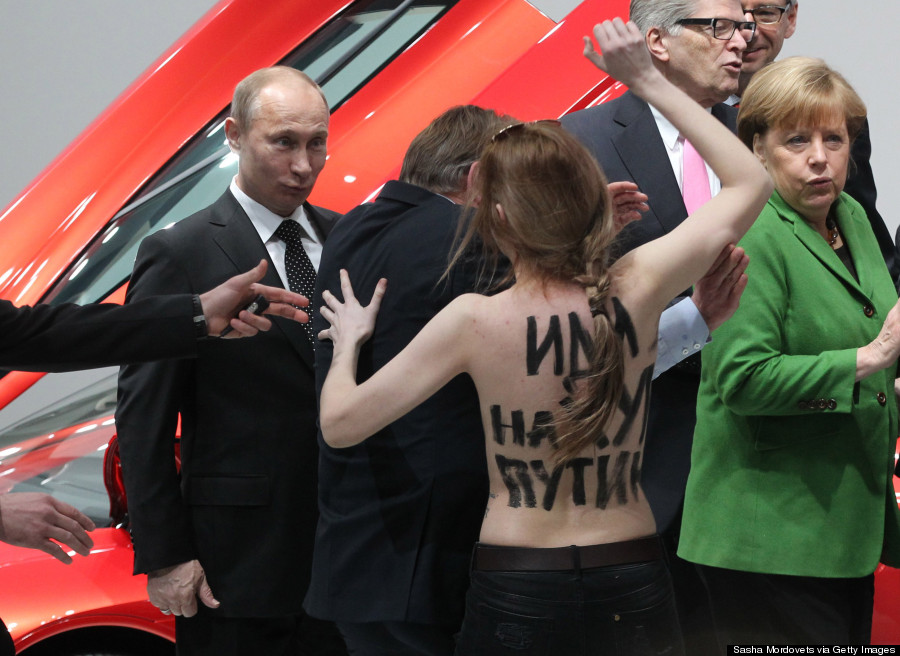 8 avril: Une "femen" ukrainienne invective le président russe Vladimir Poutine lors d'un salon industriel avec la chancelière allemande Angela Merkel.

33. Les larmes d'un macaque.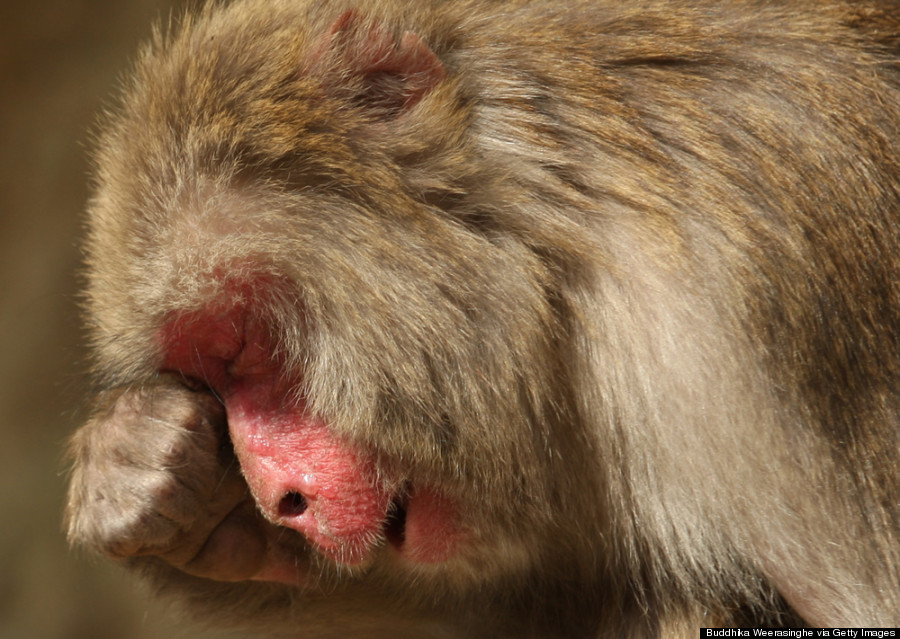 17 mars: Un macaque japonais nommé Monday se gratte les yeux et pleure, conséquence d'un rhume des foins ayant infecté de nombreux singes cette année. Le rhume des foins est dû à une allergie.

34.Leprechaun moderne.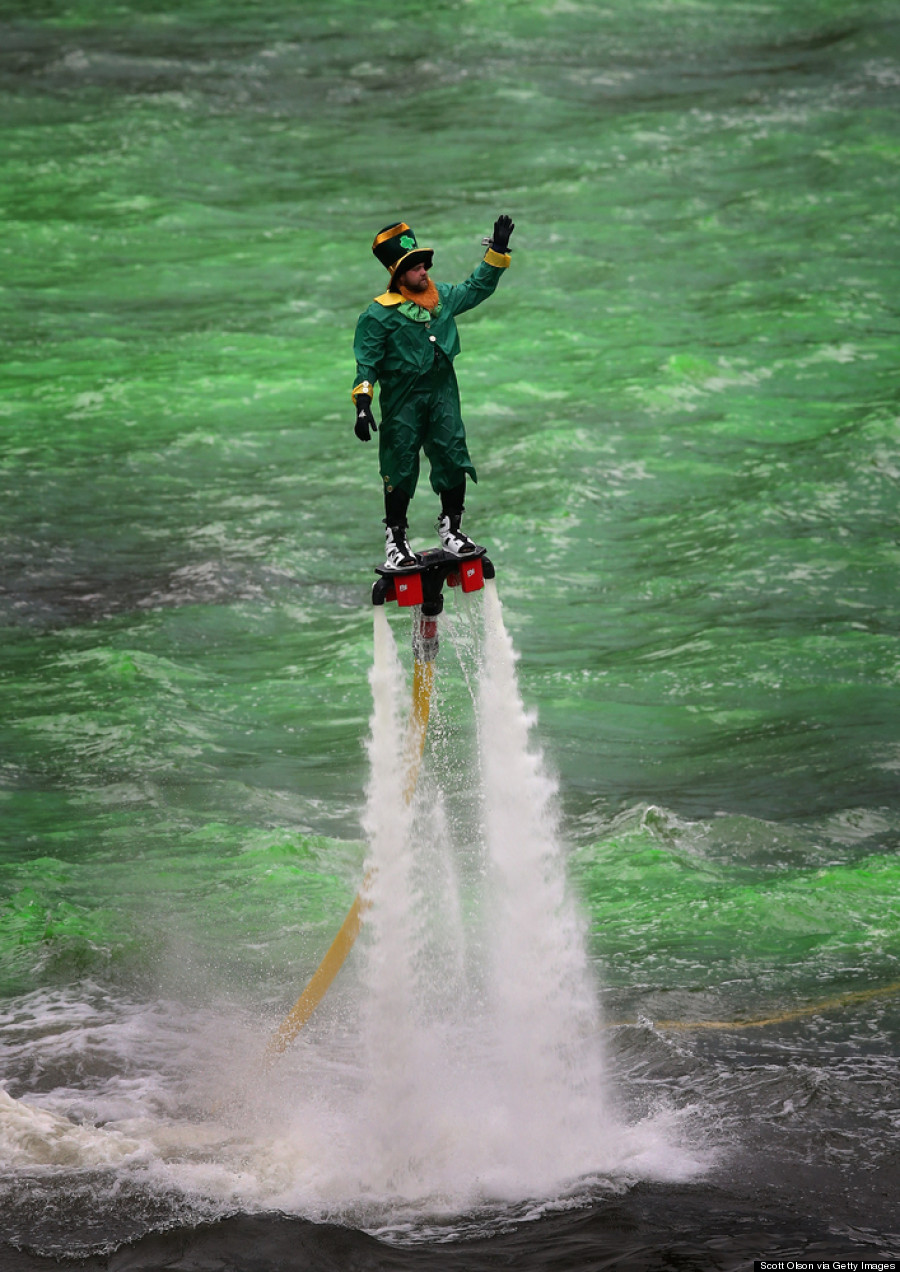 16 mars: Un leprechaun flotte sur un Flyboard pour le plaisir des habitants de Chicago lors de la St-Patrick, point de départ d'une longue période de célébrations. La rivière Chicago a aussi été verdie pour l'occasion.

35. Journée particulièrement neigeuse pour ce lama.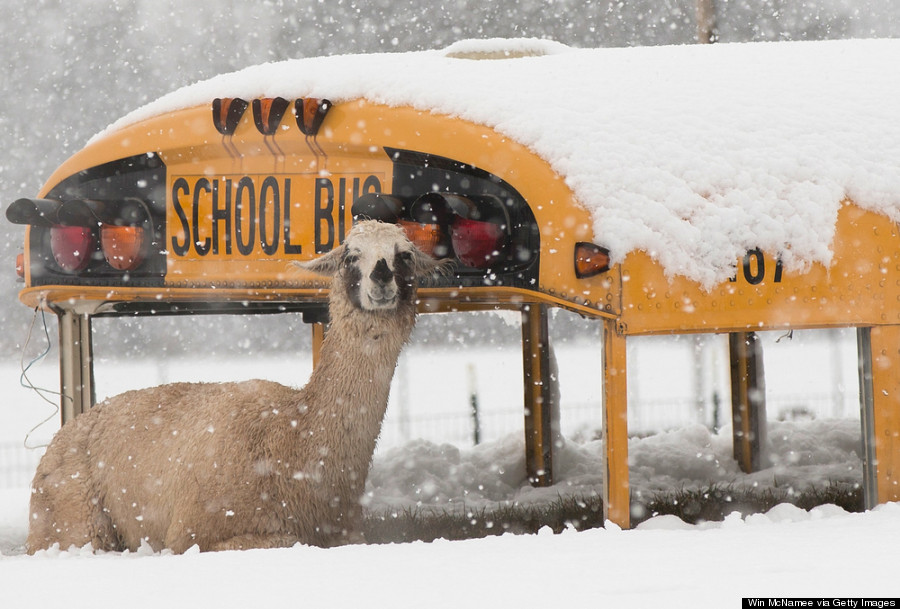 6 mars: Un lama cherche refuge près d'un bus scolaire à Centreville, en Virginie, sous des chutes de neige tardives. Le lama appartient au zoo de Cox Farms.

36. S'amuser dans un camp de réfugiés.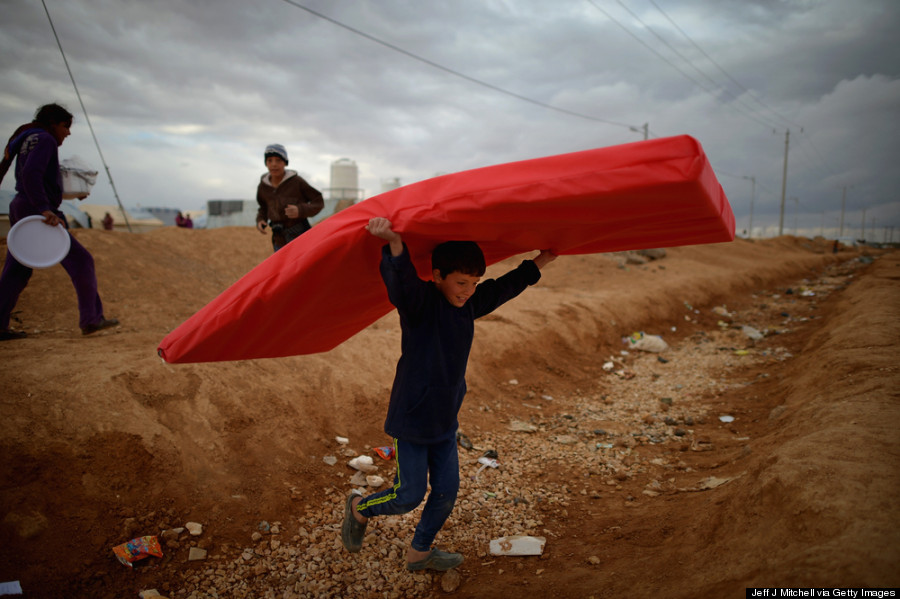 29 janvier: Un jeune réfugié syrien sourit en traversant un fossé, un matelas sur les épaules. Le garçon vivait dans le camp de réfugiés de Za'atari à Mafrq, en Jordanie, après avoir fuit les violences en Syrie.

37. Le premier baiser de l'année.
1er janvier: Des amoureux s'embrassent pour la nouvelle année, sous des feux d'artifice. La photo a initialement été publiée sur le site Reddit.
Loading Slideshow
MOVING IMAGE (Dec. 21 - Dec. 31)

People enjoy a snow-covered Cloud Gate at Millennium Park in Chicago, which becomes a great photo opportunity for visitors, Wednesday, Dec. 25, 2013. Two bursts of light snow are likely to total 1 to 2 inches area-wide, making this the snowiest Christmas in the Chicago area since 2002 when 2 inches fell.

MOVING IMAGE (Dec. 21 - Dec. 31)

A diver dressed as Santa Claus surfaces after swimming in the Coral Garden tank, Tuesday, Dec. 24, 2013 at the South East Asia Aquarium of Resorts World Sentosa, a popular tourist attraction in Singapore. This is part of the attraction's Christmas celebrations.

MOVING IMAGE (Dec. 21 - Dec. 31)

Participants take part in the Matlock raft race on December 26, 2013 in Matlock, England. The Derbyshire Association of Sub-Aqua Clubs organise the Matlock Raft Race in aid of the RNLI (lifeboats). It has been running for over 47 years and has raised more than £200,000. The race starts on the River Derwent in Matlock and finishes at Cromford Meadows two miles downstream.

MOVING IMAGE (Dec. 21 - Dec. 31)

Bedouins gather around the grave of Salah Abu Latif during his funeral in the Bedouin city of Rahat, southern Israel, Wednesday, Dec. 25, 2013. Latif was killed by a Palestinian sniper as he was working on the fence between Israel and Gaza. Israeli air and ground forces launched a series of attacks Tuesday on targets across the Gaza Strip, killing a young girl and wounding several in response to the deadly shooting of the Israeli civilian yesterday.

MOVING IMAGE (Dec. 21 - Dec. 31)

Visitors take a picture of a Christmas illumination, lit by 280,000 LED lights, at Tokyo Midtown business and commercial complex in Tokyo, Saturday, Dec. 21, 2013.

MOVING IMAGE (Dec. 21 - Dec. 31)

Camels walk along sand dunes in the Liwa desert, 220 kms west of Abu Dhabi, as the Mazayin Dhafra Camel Festival takes place on December 22, 2013. The festival, which attracts participants from around the Gulf region, includes a camel beauty contest, a display of UAE handcrafts and other activities aimed at promoting the country's folklore.

MOVING IMAGE (Dec. 21 - Dec. 31)

An Israeli AH-64 Apache longbow helicopter launches anti-missile flares during an air show at the graduation ceremony of Israeli air force pilots at the Hatzerim base in the Negev desert, near the southern Israeli city of Beersheva on December 26, 2013.

MOVING IMAGE (Dec. 21 - Dec. 31)

An Indian resident bathes on a roadside in New Delhi on December 22, 2013. Biting cold sweeping across northern India has intensified, with high altitude areas experiencing fresh snowfall and strong icy winds.

MOVING IMAGE (Dec. 21 - Dec. 31)

A tourist makes a sunrise visit to the temple of Karnak on the day of the winter solstice in Luxor, 510 kilometers (320 miles) south of Cairo, Egypt, Saturday, Dec. 21, 2013. Tourism, which accounts for nearly 20 percent of Egypt's foreign currency revenues, has been hard hit by the past three years of turmoil. Government officials have been campaigning to regain some of the European, American and Asian tourism that was suspended following violence this summer.

MOVING IMAGE (Dec. 21 - Dec. 31)

A Syrian Orthodox Christian boy plays on the terrace of the Saint Afram Syrian Orthodox church, in Amman, Jordan, Wednesday, Dec. 25, 2013. Over 70 Syrian Orthodox Christian families from different cities and areas in Syria, live in the hall and rooms of the church after they fled the country's civil war.

MOVING IMAGE (Dec. 21 - Dec. 31)

Women bare their chests in a traditional sign of placing a curse, after at least two people were injured by passing Chadian troops, during a protest outside Mpoko Airport in Bangui, Central African Republic, Monday, Dec. 23, 2013. Hundreds of demonstrators gathered at the entrance to the airport Monday morning carrying signs protesting Chadian forces and expressing support for French troops and other regional African forces. At least two people were wounded as pickups of Chadian soldiers sped through the gathered crowd firing off several rounds.

MOVING IMAGE (Dec. 21 - Dec. 31)

A participant attends the traditional Christmas winter swimming competition named in memory of Alfred Nikodem, in the Vltava river on December 26, 2013 in Prague, Czech Republic. This year 285 swimmers took part in temperatures of 4.5C.

MOVING IMAGE (Dec. 21 - Dec. 31)

David Nugent of Leiester City chases a squirrel off the pitch after play was delayed during the Sky Bet Championship match between Queens Park Rangers and Leicester City at Loftus Road on December 21, 2013 in London, England.

MOVING IMAGE (Dec. 14 - Dec. 20)

Visitors to the Voortrekker Monument watch as a ray of sunlight shines on the unmarked tomb in the basement of the monument during Day of Reconciliation celebrations in Pretoria, Monday, Dec. 16, 2013. Under apartheid, the day was known as Day of the Vow, in commemoration of a promise Voortrekkers made to God to build a church should they be granted victory against attacking Zulus, but under democracy the day is used to foster reconciliation and national unity. (Markus Schreiber/AP)

MOVING IMAGE (Dec. 14 - Dec. 20)

Women carry buckets of gravel on the banks of the Irrawaddy River next to the oil recycling company on December 16, 2013 in Yangon, Myanmar. Gravel laborers play a major role in the current development of Burma. The gravel is used for many foundations of the large corporations being built in Yangon and throughout the country. (Lauren DeCicca/Getty Images)

MOVING IMAGE (Dec. 14 - Dec. 20)

Smoke rises from the burning Jianye building on December 15, 2013 in Guangzhou, China. A fire broke out in the unfinished Jianye Building at about 7 p.m. on Sunday with around 380 firemen attending the blaze, authorities have yet to say whether there are any casualties. (ChinaFotoPress/Getty Images)

MOVING IMAGE (Dec. 14 - Dec. 20)

A long skater speeds away on the rain-wet ice on lake Orlangen, South of Stockholm on December 15, 2013. Meteorologists forecast temperatures around 5 degrees for southern Sweden. (Tobias Rostlund/AFP/Getty Images)

MOVING IMAGE (Dec. 14 - Dec. 20)

A Yemeni girl receives a polio vaccination during a polio immunization campaign at a health center in Sanaa, Yemen, Monday, Dec. 16, 2013. A three day anti-Polio immunization campaign to vaccinate more than four million children under five years old against polio began on Monday. (Hani Mohammed/AP)

MOVING IMAGE (Dec. 14 - Dec. 20)

Fans take a picture at FirstEnergy Stadium before the Cleveland Browns host the Chicago Bears on December 15, 2013 in Cleveland, Ohio. (Matt Sullivan/Getty Images)

MOVING IMAGE (Dec. 14 - Dec. 20)

General view of the Girls Coxless Fours during the 2013 Meridian Otago Rowing Championships at Lake Ruataniwha on December 14, 2013 in Central Otago, New Zealand. (Martin Hunter/Getty Images)

MOVING IMAGE (Dec. 14 - Dec. 20)

St Gallen's goalkeeper Marcel Herzog gestures during the Europa League Group A football match between FC St Gallen and Swansea City on December 12, 2013 at the AFG Arena in St Gallen. Swansea lost 1-0. FABRICE COFFRINI/AFP/Getty

MOVING IMAGE (Dec. 14 - Dec. 20)

Anti-government protesters guard a barricade designed to keep police from evicting them from Independence Square on December 13, 2013 in Kiev, Ukraine. Thousands of people have been protesting against the government since a decision by Ukrainian president Viktor Yanukovych to suspend a trade and partnership agreement with the European Union in favor of incentives from Russia. Brendan Hoffman/Getty

MOVING IMAGE (Dec. 14 - Dec. 20)

Thi Phuong Le of Vietnam competes in the women's pole vault final during the 2013 Southeast Asian Games at Wunna Theikdi Stadium on December 15, 2013 in Nay Pyi Taw, Myanmar. Suhaimi Abdullah/Getty

MOVING IMAGE (Dec. 14 - Dec. 20)

African migrants walk on a highway as they try to walk to Jerusalem in protest after abandoning a detention facility in the southern Israeli desert on December 16, 2013 near Beer Sheva, Israel. Over 100 African migrants abandoned the "open" Israeli detention center, which opened last week, to march to Jerusalem to protest a law allowing authorities to keep them in open-ended detention until the resolution of their asylum requests are granted or they are deported or volunteered to leave the country. Uriel Sinai/Getty

MOVING IMAGE (Dec. 14 - Dec. 20)

An anti-balaka militiamen, who was a former member of the Central African Armed Forces (FACA), takes part in a training session on the outskirts of Bangui on December 17, 2013. France today said other European nations would send troops to the Central African Republic to prop up a military force on the ground attempting to disarm militias dispensing deadly violence. The United Nations says some 210,000 people have been displaced in the capital Bangui alone in two weeks of unrest largely pitting Christians against Muslims, and France at the weekend called for more help from its European partners to assist its 1,600 troops on the ground. Ivan Lieman/AFP/Getty

MOVING IMAGE (Dec. 14 - Dec. 20)

Whirling dervishes perform at the Galata Mevlevihane (The Lodge of the Dervishes) in Istanbul on December 18, 2013. The dervishes are adepts of Sufism, a mystical form of Islam that preaches tolerance and a search for understanding. Those who whirl, like planets around the sun, turn dance into a form of prayer. GURCAN OZTURK/AFP/Getty

MOVING IMAGE (Dec. 14 - Dec. 20)

Racegoers look on as the runners pass the grandstands in The Tony Jones 60th Birthday Bash Maiden Hurdle Race at Newbury racecourse on December 18, 2013 in Newbury, England. Alan Crowhurst/Getty

MOVING IMAGE (Dec. 14 - Dec. 20)

A sulfur miner carries a goats head in a white bag as he climbs to bury the head in the crater as part of an annual offering ceremony on the Ijen volcano on December 17, 2013 in Yogyakarta, Indonesia. The ritual is performed by the sulfur miners of Mount Ijen who slaughter a goat and then bury the head in the crater of mount Ijenn. The sacrifice is performed to ward off potential disasters for the next year. The Ijen crater rises to 2,386m, with a depth of over 175m, making it one of the world's largest craters. Sulphur mining is a major industry in the region, made possible by an active vent at the edge of a lake, but the work is not without risks as the acidity of the water in the crater is high enough to dissolve clothing and cause breathing problems. Ulet Ifansasti/Getty

MOVING IMAGE (Dec. 14 - Dec. 20)

An Afghan potter works on his pottery at his shop in Kabul, Afghanistan, Thursday, Dec. 19, 2013. The potter make sabout 800 Afghani ($14.3) per day. Rahmat Gul/AP

MOVING IMAGE (Dec. 7 - Dec. 13)

Ukrainian protestors continue to protest on Kiev's Independence Square on December 9, 2013. As the weather gets colder some protesters are leaving and some others still waiting and blocking the roads which leads to the parliements. (Onur Coban/Anadolu Agency/Getty Images)

MOVING IMAGE (Dec. 7 - Dec. 13)

Turkish riot police officers take cover as Kurdish protesters shoot fireworks at them during clashes in central Istanbul on December 7, 2013. Two protesters were killed on December 6 in armed clashes with Turkish police that erupted over claims that Kurdish rebel cemeteries had been destroyed, local media reported. Some 30 masked men in a group of around 150 demonstrators hurled Molotov cocktails and hand grenades at security forces in the Yuksekova district of Kurdish-dominated southeastern Turkey, the Dogan News Agency said. (Bulent Kilic/AFP/Getty Images)

MOVING IMAGE (Dec. 7 - Dec. 13)

Ultra Orthodox Jewish men and Rabbis gather during a demonstration to support Ultra-Orthodox Jews who were detained for refusing to report to a military recruitment center in front of the Israeli military prison 6 near Haifa, Israel, Monday, Dec. 9, 2013. Israeli police say more than a thousand people have protested in support of ultra-Orthodox Jews who were detained for refusing to report to a military recruitment center. (Ariel Schalit/AP)

MOVING IMAGE (Dec. 7 - Dec. 13)

A contestant bites the tail of one of the bulls to make it run faster, as he races a pair of bulls at an oxen race competition held at a paddy field in Malappuram, Kerala state, India, Sunday, Dec.8, 2013. (T.Mohandas/AP)

MOVING IMAGE (Dec. 7 - Dec. 13)

A typhoon survivor walks past damaged trees at typhoon-ravaged Tolosa town, Leyte province, central Philippines, Monday, Dec. 9, 2013. One month since Typhoon Haiyan, signs of progress in this shattered Philippine city are mixed with reminders of the scale of the disaster and the challenges ahead. Tens of thousands are living amid the ruins of their former lives, underneath shelters made from scavenged materials and handouts. (Aaron Favila/AP)

MOVING IMAGE (Dec. 7 - Dec. 13)

Michael Palmisano pulls his 2-year-old son, Blake, in a wagon as a light snow falls in Baltimore, Tuesday, Dec. 10, 2013. Residents along the East Coast and in the Appalachians woke up to snow Tuesday, but by mid-morning the National Weather Service had canceled its winter storm warning for the Eastern Seaboard, including Baltimore. (Patrick Semansky/AP)

MOVING IMAGE (Dec. 7 - Dec. 13)

A fan of Argentina's Lanus climbs a fence as fireworks explode outside the stadium before the Copa Sudamericana final soccer match against Brazil's Ponte Preta in Buenos Aires, Argentina, Wednesday, Dec. 11, 2013. (Victor R. Caivano/AP)

MOVING IMAGE (Dec. 7 - Dec. 13)

Thai anti-government protester wave Thai national flags after removing barbed wire over the fence of Prime Minister's office known as Government House in Bangkok, Thailand Thursday, Dec. 12, 2013. Protesters waging a surreal political fight to oust Thailand's elected prime minister are trying to establish what amounts to a parallel government - one complete with "security volunteers" to replace the police, a foreign policy of their own and a central committee that has already begun issuing audacious orders. (Wason Wanichakorn/AP)

MOVING IMAGE (Dec. 7 - Dec. 13)

Shoppers are reflected on an art installation on display at a shopping mall in Beijing, China Saturday, Dec. 7, 2013. (Andy Wong/AP)

MOVING IMAGE (Dec. 7 - Dec. 13)

A Sunshine International Aquarium staff member dressed in a Santa Claus costume embraces a Zebra shark as he swims with fish inside the aquarium in Tokyo, Wednesday, Dec. 11, 2013. (Shizuo Kambayashi/AP)

MOVING IMAGE (Dec. 7 - Dec. 13)

A Christian man chases a suspected Seleka officer in civilian clothes with a knife near the airport in Bangui, Central African Republic, Monday Dec. 9, 2013. Both Christian and Muslim mobs went on lynching sprees as French Forces deployed in the capital. The Seleka man was taken into custody by French forces who fired warning shots to disperse the crowds. (Jerome Delay/AP)

MOVING IMAGE (Dec. 7 - Dec. 13)

An anti-government protester uses a hand clapper as they listen to a speaker while camping at the Democracy Monument in Bangkok, Thailand, Sunday, Dec. 8, 2013. The main opposition Democrat Party resigned from parliament on Sunday to protest what it called "the illegitimacy" of a government with which it can no longer work. The move deepens the country's latest political crisis one day before new street demonstrations that many fear could turn violent. (Manish Swarup/AP)

MOVING IMAGE (Dec. 7 - Dec. 13)

A large flock of starlings fly illuminated by the setting sun near Bacau, north eastern Romania, Tuesday, Dec. 10, 2013. Large numbers of starlings populate the vast cereal growing agricultural lands in eastern Romania, feeding on the seeds already laid in the ground. (Vadim Ghirda/AP)

MOVING IMAGE (Dec. 7 - Dec. 13)

A pet monkey grabs a Thai national flag at Democracy Monument where protesters camp in, in Bangkok, Thailand, Sunday, Dec 8, 2013. The main opposition party announced it was resigning from parliament to protest what it called "the illegitimacy" of the government. The move deepens the country's latest political crisis a day before new street demonstrations that many fear could turn violent. (Vincent Thian/AP)

MOVING IMAGE (Dec. 7 - Dec. 13)

Western Wall and the Dome of the Rock, some of the holiest sites for for Jews and Muslims, are covered in snow in Jerusalem, Friday, Dec. 13, 2013. Early snow has surprised many Israelis and Palestinians as a blustery storm, dubbed Alexa, brought gusty winds, torrential rains and heavy snowfall to parts of the Middle East. (Dusan Vranic/AP)

MOVING IMAGE (Nov. 30 - Dec. 6)

A Naga tribal man in traditional attire shouts while he performs a dance during the Hornbill festival at Kisama village on the outskirts of Kohima, Nagaland, India, Monday, Dec. 2, 2013. The 10-day long festival named after the Hornbill bird is one of the biggest festivals of India's northeast that showcases the rich tradition and cultural heritage of the indigenous Nagas.

MOVING IMAGE (Nov. 30 - Dec. 6)

Afghan schoolchildren take lessons in an open classroom at a refugee camp on the outskirts of Jalalabad, Nangarhar province on December 1, 2013. Afghanistan has had only rare moments of peace over the past 30 years, its education system being undermined by the Soviet invasion of 1979, a civil war in the 1990s and five years of Taliban rule.

MOVING IMAGE (Nov. 30 - Dec. 6)

History enthusiasts dressed as soldiers take part in a re-enactment of Napoleon's 1805 Battle of Austerlitz near the South Moravian city of Slavkov, Czech Republic, on November 30 , 2013.

MOVING IMAGE (Nov. 30 - Dec. 6)

Group scene during rehearsals for 'Momix Botanica' at Admiralspalast on December 4, 2013 in Berlin, Germany.

MOVING IMAGE (Nov. 30 - Dec. 6)

A view from the bottom of the ECO Cycle system at the Konan Hoshi No Koen Parking on December 3, 2013 in Tokyo, Japan. This ECO Cycle underground bicycle parking system is developed by a construction solutions company GIKEN. The system is designed to tackle the over-crowded bike parking issues in urban areas of Japan.

MOVING IMAGE (Nov. 30 - Dec. 6)

A child listens as Erika Andiola, who recently resigned her position in the congressional office of Rep. Rep. Kyrsten Sinema (D-AZ), speaks at a press conference held by the Dream Action Coalition on immigration reform December 4, 2013 in Washington, DC. Andiola's mother, Maria Andiola, faces deportation proceedings being conducted by Immigration and Customs Enforcement.

MOVING IMAGE (Nov. 30 - Dec. 6)

General view of horses on the All Weather Track during a Hong Kong International Trackwork Session at Sha Tin racecourse on December 5, 2013 in Hong Kong, Hong Kong.
Retrouvez les articles du HuffPost sur notre page Facebook.
Suivre @HuffPostQuebec