Lady Gaga jouera pour la première fois au cinéma dans "Machette Kills " de Robert Rodriguez
CINÉMA - Lady Gaga va faire ses premiers pas au cinéma. La chanteuse pop sera La Chameleon dans le très attendu Machete Kills signé Robert Rodriguez.
C'est sur Twitter que le réalisateur a officialisé l'information et dévoilé une première affiche du film mettant en scène la chanteuse dévêtue, arme à la main et peau de loup autour des épaules. Si Lady Gaga a confirmé la nouvelle à ses fans, elle ne s'épanche pas sur la nature de son rôle.
I just finished working with @LadyGaga on @MacheteKills , she kicked SO MUCH ASS! Holy Smokes. Blown away! yfrog.com/kezw3dnj

— Robert Rodriguez (@Rodriguez) Juillet 26, 2012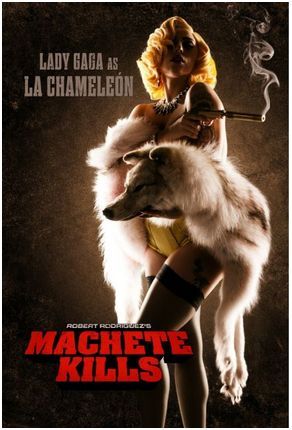 "Je viens de finir de travailler avec Lay Gaga sur Machete Kills. Elle botte beaucoup de culs. Fumée sainte."
Yes its true, I will be making my debut as an actress ln the amazing MACHETE KILLS BY @RODRIGUEZ IM SO EXCITED!!! AH! Filming was insane.

— Lady Gaga (@ladygaga) Juillet 26, 2012
"C'est vrai, je confirme que je ferais mes premiers pas en tant qu'actrice dans le super Machete Kills de Robert Rodriguez. Je suis si excitée Ah! C'était dingue."
Machete Kills est le deuxième volet des aventures du Mexicain le plus recherché d'Amérique. Comme pour Machete sorti en 2010, le casting réunit son lot d'actrices aux formes avantageuses. Jessica Alba, Michelle Rodriguez, Alexa Vega ou encore Sofia Vergara donneront la réplique à l'imposant Danny Trejo. A noter que la veille, Robert Rodriguez annonçait également avoir casté Charlie Sheen pour le rôle de président des Etas-Unis.
L'histoire est celle du bad boy mexicain, Machete un ancien agent de la police fédérale du Mexique devenu tueur à gages. Il est engagé par le président américain pour se débarrasser d'un marchand d'armes qui veut envoyer une arme destructrice dans l'espace.
Découvrez ci-dessous la bande-annonce de Machete ainsi que quelques films de Robert Rodriguez: