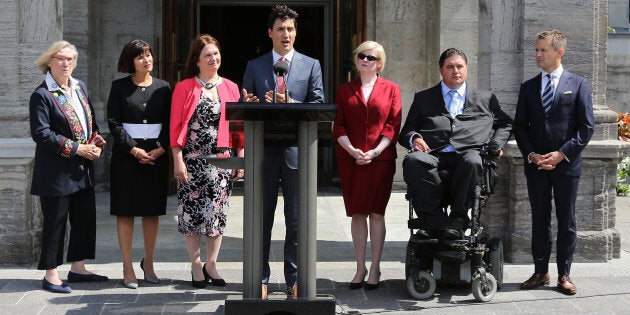 When it comes to Canadians' awareness of their federal ministers, a new poll suggests it really is the "Trudeau government."
Twenty out of 30 cabinet ministers are unknown to roughly half of Canadians, according to an Angus Reid Institute survey released Monday. The firm said the MPs were so unrecognized that poll respondents were "unable to render any opinion" on their performances.
Of the 10 that were considered familiar to the majority of Canadians, Finance Minister Bill Morneau was the most well known — "though perhaps not for the reasons he would like," the firm said in a release.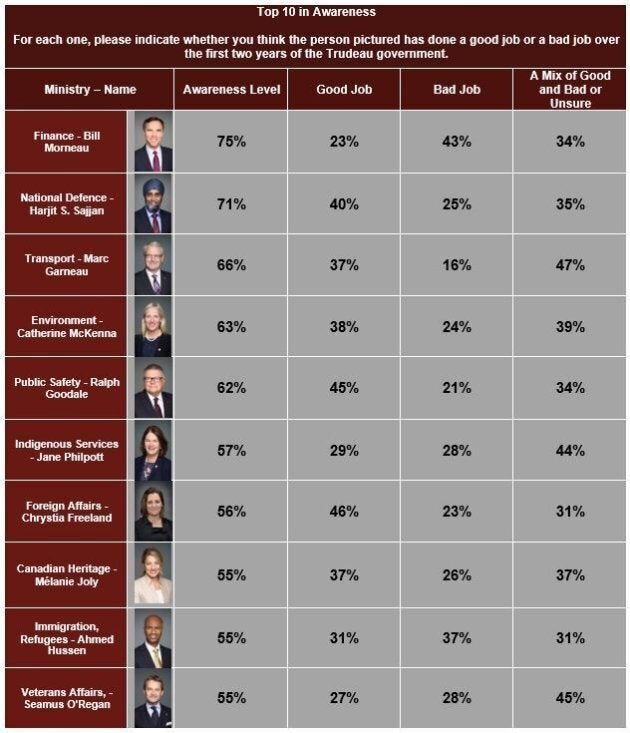 Forty-three per cent of respondents said Morneau was doing a bad job, while only 23 per cent approved of his performance.
The minister has been ensnared in an ethics controversy for the past few months thanks to a steady barrage of flak from Conservatives. On Nov. 10, federal ethics watchdog Mary Dawson announced she was launching a conflict-of-interest investigation into his conduct.
Freeland on top when it comes to approval
Though she didn't have the awareness scores of her defence or transport ministry counterparts, Foreign Affairs Minister Chrystia Freeland had the strongest approval rating in the survey.
Forty-six per cent of respondents approved of her performance, while 23 per cent were not impressed. Freeland has been a central figure in Canada's ongoing NAFTA renegotiation marathon with the U.S. and Mexico, and has been playing a lead role in charting the government's relationship with the unpredictable administration of President Donald Trump.
The firm said in a release that it "appears Canadians are happy with her performance to this point."
Only Public Safety Minister Goodale came close to Freeland's approval rating. Forty-five per cent of respondents said they approved of his job so far.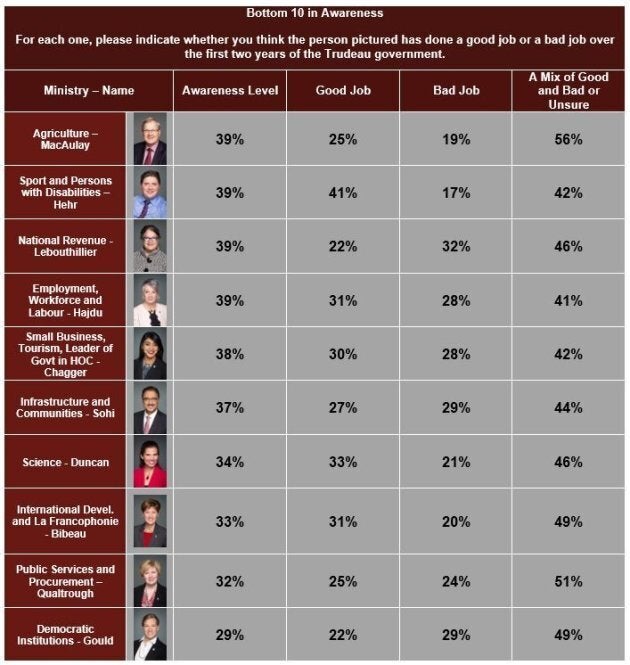 On the opposite end of the awareness scale, Democratic Institutions Minister Karina Gould was the least well-known to Canadians. Just 29 per cent of respondents said they recognized her.
Gould took over the portfolio in January from Maryam Monsef, who was widely criticized for the government's broken electoral reform pledge. Now the Status of Women minister, Monsef's awareness rating came in at 49 per cent. Thirty-eight per cent of respondents approved of her performance.
The poll was conducted online between Nov. 8-14 among a representative randomized sample of 2,425 Canadian adults, split into three groups of just over 800 respondents each. The firm says a probability sample of this size would carry a margin of error of plus or minus 3.5 per cent, 19 times out of 20.
CORRECTION: An earlier version of this story incorrectly stated that 46 per cent of respondents disapproved of Morneau's performance. It has been updated to reflect that it is 43 per cent.