Attrapez-les tous, et pour de vrai (ou presque). Les prières des fans de Pokémon auraient-elles enfin été exaucées? The Pokémon Company a annoncé ce jeudi 10 septembre la sortie en 2016 de "Pokémon Go", un jeu mobile qui se joue aussi dans le réel.
Exit la Nintendo DS, Pokémon Go sortira exclusivement sur téléphone intelligent iOS et Android, courant 2016 à l'occasion des 20 ans de la saga. Le jeu étant coproduit par Niantic, une ancienne filiale de Google responsable du jeu en réalité augmentée Ingress comme le note Le Monde, le réalisme est poussé à son paroxysme et la géolocalisation fera partie intégrante du jeu.
Croiser un Pikachu ou un Roucool sauvage au détour d'une rue, fera désormais partie de la routine des joueurs. Les dresseurs de Pokémon devront se déplacer à l'endroit où se trouvent les petites bébêtes japonaises. Une fois sur place, ils n'auront plus qu'à dégainer leur téléphone pour les capturer.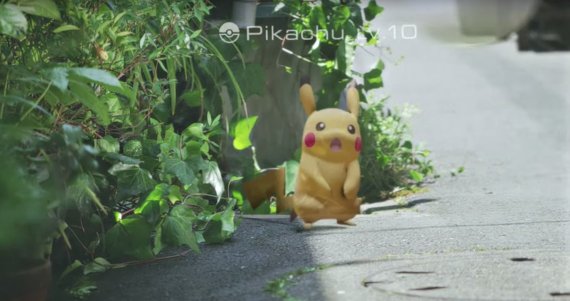 À côté de l'application (gratuite), sortira également un bracelet Pokémon Go Plus qui s'allumera et vibrera quand un Pokémon est à proximité.
The Pokémon sortira également un bracelet Pokémon GO Plus qui s'allumera et vibrera quand un Pokémon est à proximité. pic.twitter.com/Z16GGHXn8x

— amiibo Game (@amiiboGame) 10 Septembre 2015
Le site spécialisé Gamekult précise que ce bracelet permettra également aux enfants de jouer sans téléphone. Sachant qu'il est plutôt rare que de jeunes enfants aient un téléphone intelligent, le bracelet leur permettra de se connecter par Bluetooth au téléphone des parents qui auront téléchargé l'application, à condition que ces derniers soient à proximité. Lorsque les bambins sont proches d'un Pokémon, le bracelet vibre et ils n'ont plus qu'à appuyer sur un bouton du gadget pour attraper leur proie.
Un mode multijoueurs a bien évidemment été prévu. Comme on peut le voir dans la bande-annonce du jeu, les utilisateurs pourront s'échanger leurs prises ou s'affronter. Il leur sera même possible de s'allier pour mener des duels à plusieurs.
Que les citadins se rassurent, les Pokémon ne se terreront pas uniquement dans les hautes-herbes, mais aussi dans les rues, votre jardin et peut-être même dans votre chambre.
Le jeu pourra être téléchargé gratuitement, mais devrait tout de même comporter des achats optionnels.
Abonnez-vous à notre page HuffPost Québec Divertissement

Suivez-nous sur Twitter

INOLTRE SU HUFFPOST
Nintendo

Nintendo

Nintendo

Nintendo

Nintendo

Nintendo

Nintendo

Nintendo

Nintendo

Nintendo

Nintendo

Nintendo

Nintendo

Nintendo

Nintendo

Nintendo

Nintendo

Nintendo

Nintendo

Nintendo