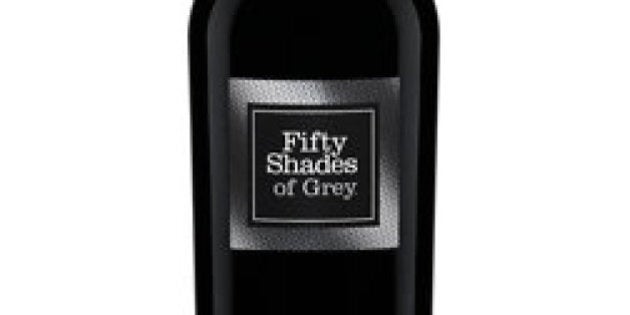 Il y a la trilogie de romans Fifty Shades of Grey, qui s'est écoulée à plusieurs millions d'exemplaires dans le monde. Il y a le film du même titre qui fera courir autant les célibataires que les couples en février. Ne manquait plus qu'un vin au nom de la marque pour achever d'émoustiller les esprits.
Eh bien, c'est fait : il y a maintenant une boisson inspirée de Fifty Shades of Grey, et celle-ci est depuis peu disponible au Québec, exclusivement à la SAQ, d'abord uniquement sur le web jusqu'au 21 janvier (saq.com) puis en magasin à compter du lendemain.
Le vin californien Red Satin, qui a d'abord été lancé aux États-Unis en 2013, est un mélange de syrah et de petite sirah aux saveurs de cerise noire, de cacao, de caramel et de… cuir. On devine bien sûr que le produit pourrait connaître une grande popularité à l'approche de la Saint-Valentin.
E.L. James, créatrice de l'univers gentiment explicite de Christian Grey et Anastasia Steele, a endossé avec enthousiasme la gamme de vins conçue à partir de sa fiction érotique, qui comprend aussi un élixir blanc, White Silk, qui n'est pas en vente chez nous pour le moment.
«Le vin joue un rôle important dans Cinquante nuances de Grey, ajoutant à la sensualité qui s'insinue dans plusieurs scènes, a précisé l'auteure. J'espère que mes lecteurs s'installeront confortablement, verre à la main, tout en appréciant la romance entre Anastasia et Christian.»


The Universal ident appears over tinkly-yet-ominous piano music.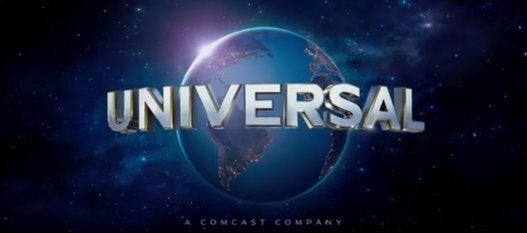 We meet our pretty heroine. She looks like a young Sophie Marceau.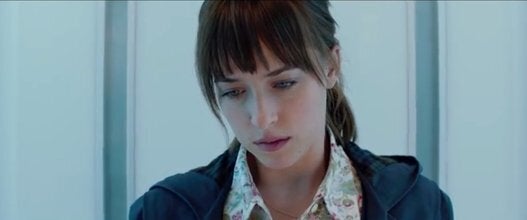 Our heroine arrives at a futuristic-looking company called GREY Enterprises. This might be something to do with the GREY of the title. We're not sure.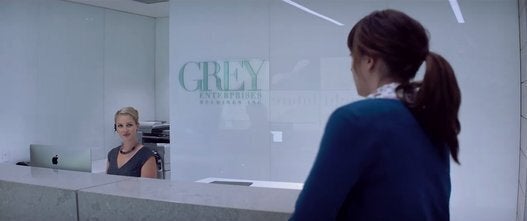 A scary fembot leads our heroine in. Her GREY suit serves to highlight the fact that our heroine looks slightly dowdy with her flowery shirt and fringe...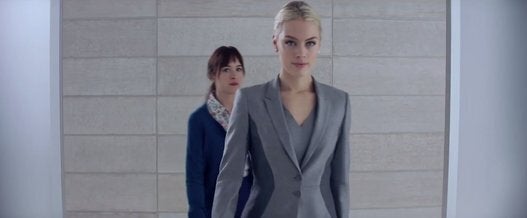 ...and her thick tights and cardi.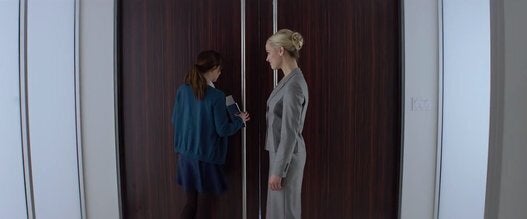 A man is looking out of the window enigmatically.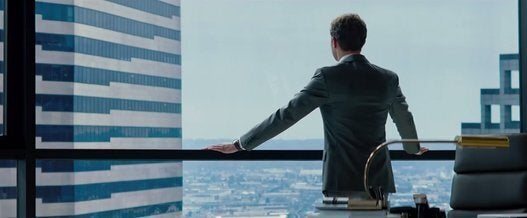 What does he look like? Our heroine can see his face but we can't.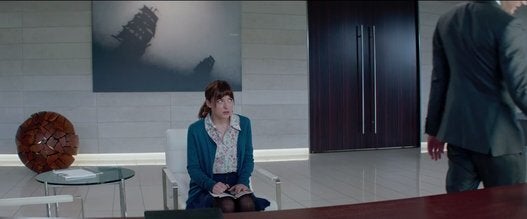 We only see him with his head cut off like this.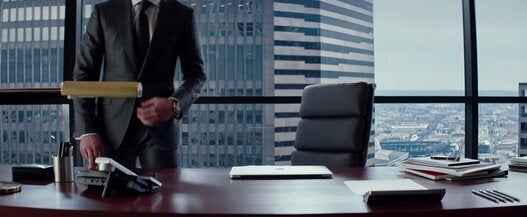 Or out of focus like this.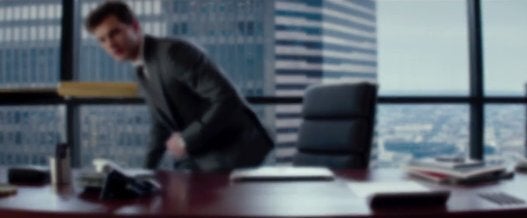 Look! There's his hand!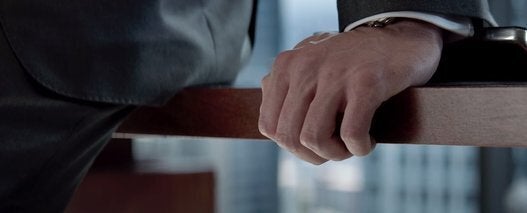 But what does he look like? WHO IS IT! Stop keeping us in suspense, Universal!
Seriously! Zoom in a bit!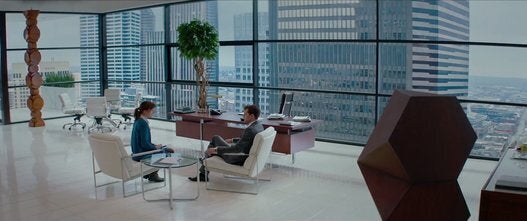 Ah, OK. He looks like this. We don't recognise him.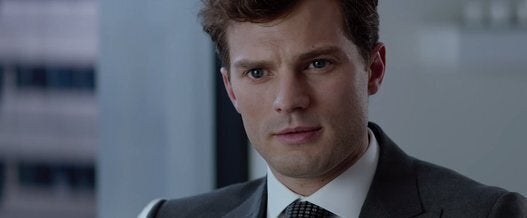 It turns out that our heroine is so dowdy, she wears a duffel coat. This is clearly someone ripe for transformation.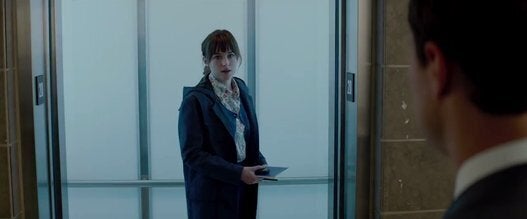 Our hero does that really annoying thing where he tugs at his cuffs.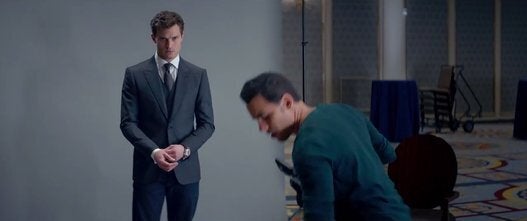 Our heroine's transformation is starting. Check out her hair now! And her scarf and parka!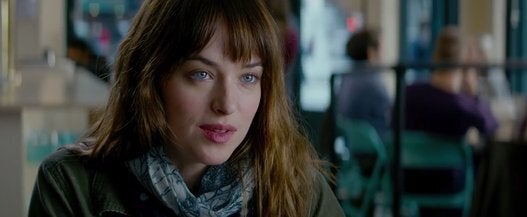 Our hero is starting to resemble Colin Firth.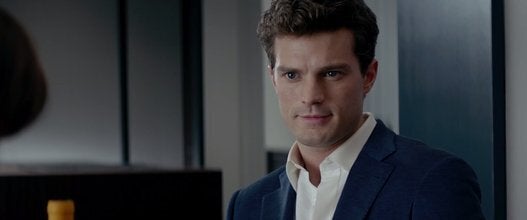 All the men watching this trailer are reminded that this is what they can organise for Valentine's Day next year.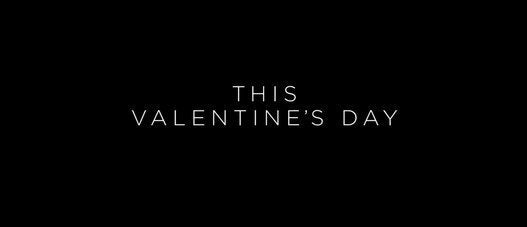 Our hero and heroine get in a lift. Our hero is no longer wearing a suit. Something's afoot.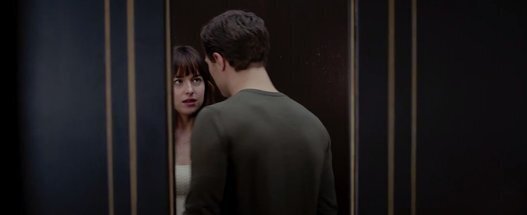 Finally! They kiss and have a play fight in the lift.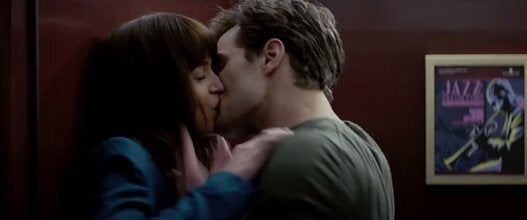 Everyone watching this trailer is reminded that the book has made women all over the world get horny.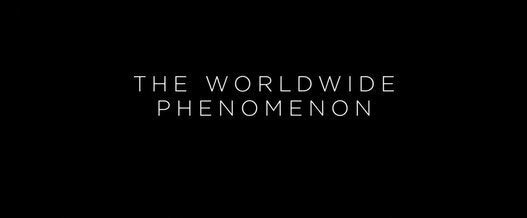 Our hero has a helicopter. It is GREY.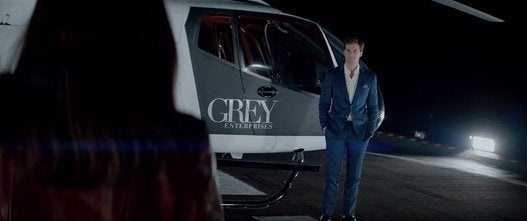 'Comes'. Geddit?!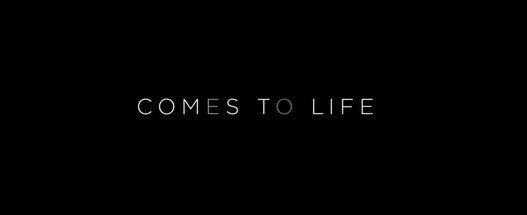 Our hero and heroine reenact a scene from a bad '80s music video.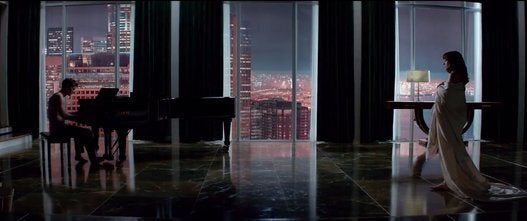 Our hero goes out jogging early in the morning, a bit like Rocky.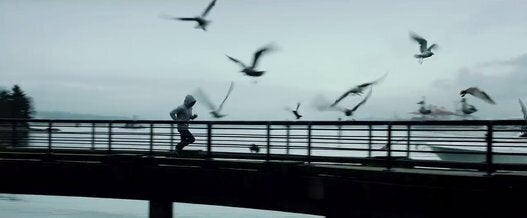 Our heroine wonders where our hero is. Perhaps he went out jogging, a bit like Rocky?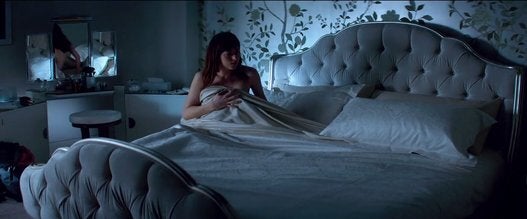 There is the obligatory awkward-yet-revealing dinner party scene.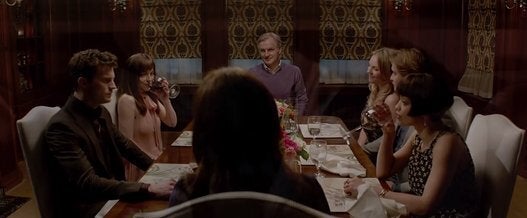 There is the obligatory shirt-off scene.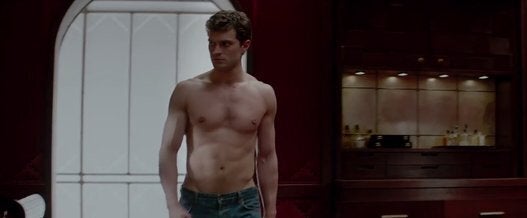 There is a plane.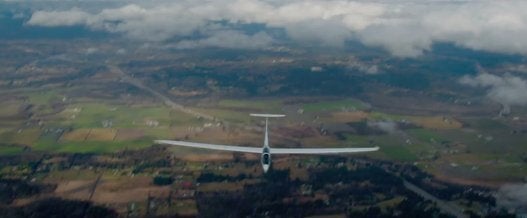 He's flying it.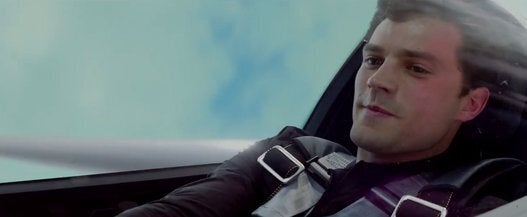 She's enjoying it. This is probably a metaphor.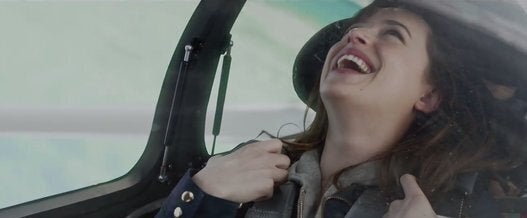 She looks at him like this. Something's afoot.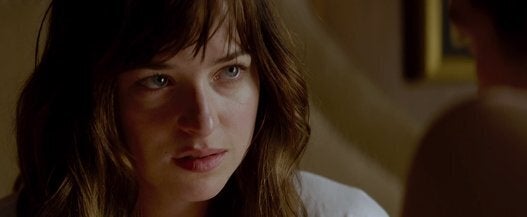 They reenact a scene from 'Location, Location, Location'.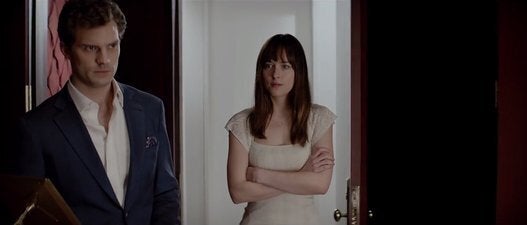 He tickles her with a riding crop.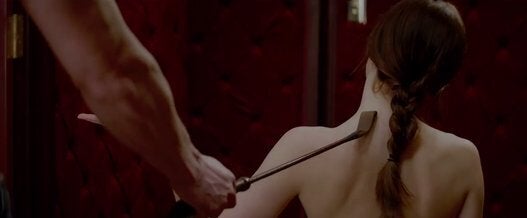 He carries her because she's overwhelmed at being tickled with a riding crop.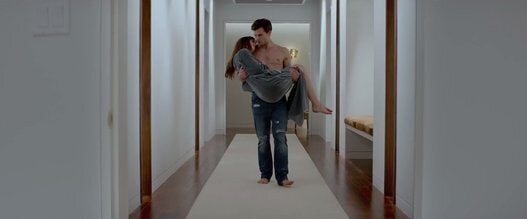 There is a lot of red going on.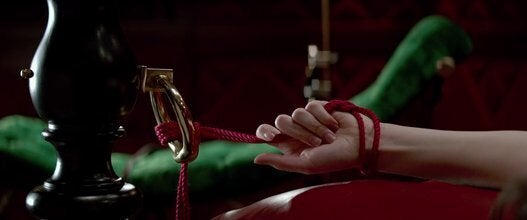 Our heroine is exasperated because she's wearing an eye mask and STILL can't get to sleep.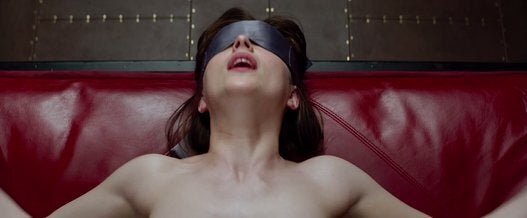 Everyone watching the trailer is reminded that it is for the film 'Fifty Shades Of Grey'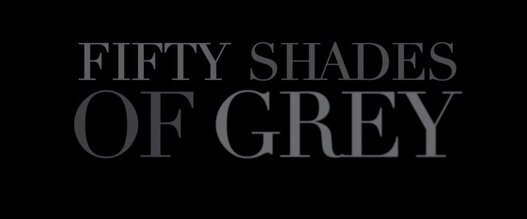 And if you want to enjoy a song lasting a few minutes, you'll have to sit through a film that lasts a couple of hours.