L'impression 3D est devenue délicieuse, c'est officiel.
Lors du salon international CES, qui a lieu à Las Vegas cette semaine, 3D Systems, entreprise basée en Caroline du Sud, a dévoilé une nouveauté présentée comme "la première et unique imprimante 3D à usage professionnel destinée à la cuisine".
La ChefJet peut imprimer du sucre, du chocolat ou des confiseries suivant à peu près toutes les configurations imaginables.
Pour créer une confiserie, l'imprimante a besoin d'eau et d'ingrédients à base de poudre sèche.
Elle fonctionne de la manière suivante: un mécanisme ressemblant à un rouleau à pâtisserie étale d'abord une fine couche de poudre sur la surface imprimable. Une tête à jet d'encre diffuse ensuite un filet d'eau étroit, dessinant sur la couche de sucre en suivant le schéma pré-programmé. Quand l'eau entre en contact avec la poudre, elle recristallise, de manière à ce que tout ce qui touche l'eau durcisse.
Le processus se répète couche après couche, formant le dessert de bas en haut, à la vitesse de 25mm par heure.
Résultat final: des confiseries complexes, détaillées, qui se tordent, tournent et scintillent.
Les confiseries peuvent être utilisées comme sculptures ornementales pour des gâteaux de mariage, simples morceaux de sucre, sucreries imprimées et personnalisées, "ou toute préparation du même genre", a indiqué Liz Von Hasseln, directrice du département des produits culinaires chez 3D Systems.
Mais vous ne devriez pas voir le Chefjet dans votre cuisine de sitôt. Lorsqu'elle sera commercialisée, l'imprimante coûtera "un peu moins de 5000 dollars (environ 3600 euros)", selon Liz Von Hasseln. Elle sera destinée aux boulangers professionnels, aux chefs pâtissiers, aux restaurateurs et aux chocolatiers.
Une version améliorée, la ChefJet Pro, peut ajouter de la couleur aux confections, et sera disponible pour "un peu moins de 10.000 dollars (7300 euros)".
"Il s'agit là d'équipement pour la cuisine de niveau professionnel", a déclaré Liz Von Hasseln.
Liz Von Hasseln et son mari, Kyle, sont tous les deux architectes de formation. Un jour, à l'époque où ils étaient étudiants, selon leur site internet, ils ont voulu offrir un cadeau unique à un ami dont c'était l'anniversaire, ils ont donc piraté une imprimante 3D et tenté de lui imprimer un gâteau. Leur idée a fonctionné, et c'est ainsi qu'est né The Sugar Lab, société destinée aux confections personnalisées pour tout type d'événement.
3D Systems a racheté The Sugar Lab en septembre, et les Von Hasseln travaillent depuis pour la compagnie, aidant au développement de la ligne Chefjet.
"C'est un tout nouvel horizon pour l'impression 3D, indique Liz Von Hasseln, et une nouvelle communauté va pouvoir se familiariser avec cette technologie alors qu'elle n'aurait peut-être jamais été en mesure d'y avoir accès auparavant. C'est donc vraiment enthousiasmant."
Et pour ceux qui se poseraient la question: oui, j'ai eu l'opportunité de goûter à un bonbon imprimé en 3D -- saveur pomme acidulée -- et c'était délicieux.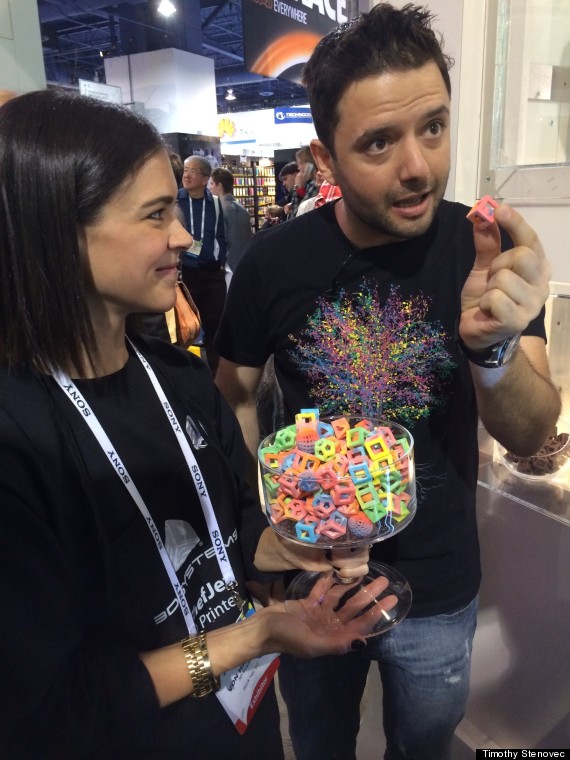 Liz Von Hasseln, à gauche, directrice des produits culinaires pour 3D Systems, tient un bol de bonbons imprimés au salon International CES le 9 janvier 2014.D
Retrouvez les articles du HuffPost sur notre page Facebook.
Suivre @HuffPostQuebec
» Comment connecter son compte HuffPost à Facebook pour pouvoir commenter?
Loading Slideshow
Les gadgets du CES 2014

Les gadgets du CES 2014

Les gadgets du CES 2014

Les gadgets du CES 2014

Les gadgets du CES 2014

Les gadgets du CES 2014

Les gadgets du CES 2014

Les gadgets du CES 2014

Les gadgets du CES 2014

Les gadgets du CES 2014

Les gadgets du CES 2014

Les gadgets du CES 2014

Les gadgets du CES 2014

Les gadgets du CES 2014
Loading Slideshow
A display made with laptops is seen at the Intel booth at the International Consumer Electronics Show in Las Vegas, Monday, Jan. 7, 2013. The 2013 International CES gadget show, the biggest trade show in the Americas, is taking place in Las Vegas this week. (AP Photo/Jae C. Hong)

2013 Consumer Electronics Show Highlights Newest Technology

LAS VEGAS, NV - JANUARY 08: An attendee samples the LG Touch Monitor at the 2013 International CES at the Las Vegas Convention Center on January 8, 2013 in Las Vegas, Nevada. CES, the world's largest annual consumer technology trade show, runs through January 11 and is expected to feature 3,100 exhibitors showing off their latest products and services to about 150,000 attendees. (Photo by David Becker/Getty Images)

This undated image provided by Ford shows the C-MAX Solar Energi Concept car. At the January 2014 International CES gadget show, Ford plans to unveil the solar-powered vehicle that offers the same performance as a plug-in hybrid. The U.S. auto maker says that by using solar power instead of an electric plug, a typical owner will reduce their annual greenhouse gas emissions by four metric tons. (AP Photo/Ford)

Consumer Electronics Show, CES, Panasoinc, EH-NA65 hair dryer

Panasonic's new EH-NA65 hair dryer is on display during the Panasonic news conference at the International Consumer Electronics Show Monday, Jan. 6, 2014, in Las Vegas. (AP Photo/Jack Dempsey)

Consumer Electronics Show, CES, Lumix GX7

The new Panasonic Lumix GX7 is on display during the Panasonic news conference at the 2014 International Consumer Electronics Show Monday, Jan. 6, 2014, in Las Vegas. (AP Photo/Jack Dempsey)

Samsung Electronics, Consumer Electronics Show, CES, 105-inch high definition tv

Samsung introduces a 105-inch ultra high definition curved television during a news conference at the International Consumer Electronics Show, Monday, Jan. 6, 2014, in Las Vegas. (AP Photo/Isaac Brekken)

Consumer Electronics Show, CES, Navia, Induct, Driverless Shuttle

Induct demonstrates their new Navia driverless shuttle at the International Consumer Electronics Show, Monday, Jan. 6, 2014, in Las Vegas. (AP Photo/Jack Dempsey)

Consumer Electronics Show, CES, Sony, Kunimasa Suzuki, Smartband, Core

Sony unveils the new Smartband and Core during the Sony news conference at the International Consumer Electronics Show Monday, Jan. 6, 2014, in Las Vegas. The Smartband and Core track your daily life on your smart phone.(AP Photo/Jack Dempsey)

Consumer Electronics Show, CES, Sony, XPERIA Z1s

Sony unveils the new EXPERIA Z1s during the Sony news conference at the International Consumer Electronics Show Monday, Jan. 6, 2014, in Las Vegas. The phone will be sold exclusivley by T-Mobile. (AP Photo/Jack Dempsey)

Consumer Electronics Show, CES, Sony, 4K LED

Sony unveils the new 65" 4K LED TV during the Sony news conference at the International Consumer Electronics Show Monday, Jan. 6, 2014, in Las Vegas. (AP Photo/Jack Dempsey)

US-IT-CONSUMER ELECTRONICS SHOW-CES

Glowing badge strings are offered during the first press event 'CES Unveiled' at the Mandalay Bay Convention Center prior to the 2014 International CES in Las Vegas, Nevada on January 05, 2014. CES, the world's largest annual consumer technology trade show, runs from January 7-10 and is expected to feature 3,200 exhibitors showing off their latest products and services to about 150,000 attendees. AFP PHOTO / JOE KLAMAR (Photo credit should read JOE KLAMAR/AFP/Getty Images)

Newest Innovations In Consumer Technology On Display At 2014 International CES

LAS VEGAS, NV - JANUARY 05: A Parrot MiniDrone is shown in flight during a press event at the Mandalay Bay Convention Center for the 2014 International CES on January 5, 2014 in Las Vegas, Nevada. The drone is controlled by a smart phone using Bluetooth and has wheels enabling it to roll on floors, walls or ceilings. CES, the world's largest annual consumer technology trade show, runs from January 7-10 and is expected to feature 3,200 exhibitors showing off their latest products and services to about 150,000 attendees. (Photo by Ethan Miller/Getty Images)

US-IT-CONSUMER ELECTRONICS SHOW-CES

The MX3 Meizu smartphone from Chinese company Future Technology Enterprise Ltd is displayed at 'CES: Unveiled,' the media preview for International CES, at the Mandalay Bay Convention Center January 5, 2014 in Las Vegas, Nevada. The MX3 is the latest Meizu smartphone using the Flyme 3.0 operating system which the company plans to release in US markets later this year. The world's largest consumer technology trade show, also known as the Consumer Electronics Show (CES), runs from Jan 7-10 in Las Vegas, Nevada. AFP PHOTO / ROBYN BECK (Photo credit should read ROBYN BECK/AFP/Getty Images)

US-IT-CONSUMER ELECTRONICS SHOW-CES

A DJI Innovations DJI Phantom 2 Vision aerial system drone with controller (R) is shown during 'CES: Unveiled,' the media preview for International CES, at the Mandalay Bay Convention Center January 5, 2014 in Las Vegas, Nevada. The Phantom 2 Vision, available for USD 1,199, has a 14-megapixel camera on board that can shoot raw photos and 1080p video. The video can be seen live and stored on an iPhone or Android smart phone attached to the controller. The world's largest consumer technology trade show, also known as the Consumer Electronics Show (CES), runs from Jan 7-10 in Las Vegas, Nevada. AFP PHOTO / ROBYN BECK (Photo credit should read ROBYN BECK/AFP/Getty Images)

US-IT-CONSUMER ELECTRONICS SHOW-CES

Liquid Image's EGO LS ,8-megapixel camera iWiFi enabled with Bluetooth for remote control use and audio capability and 4G LTE module, on display during the first press event 'CES Unveiled' at the Mandalay Bay Convention Center prior to the 2014 International CES in Las Vegas, Nevada on January 05, 2014. CES, the world's largest annual consumer technology trade show, runs from January 7-10 and is expected to feature 3,200 exhibitors showing off their latest products and services to about 150,000 attendees. AFP PHOTO / JOE KLAMAR (Photo credit should read JOE KLAMAR/AFP/Getty Images)

US-IT-CONSUMER ELECTRONICS SHOW-CES

Liquid Image's googles with built in cameras on display during the first press event 'CES Unveiled' at the Mandalay Bay Convention Center prior to the 2014 International CES in Las Vegas, Nevada on January 05, 2014. CES, the world's largest annual consumer technology trade show, runs from January 7-10 and is expected to feature 3,200 exhibitors showing off their latest products and services to about 150,000 attendees. AFP PHOTO / JOE KLAMAR (Photo credit should read JOE KLAMAR/AFP/Getty Images)

US-IT-CONSUMER ELECTRONICS SHOW-CES

The cooking temperature is set on an Android 4.0 tablet built into the front panel of the Discovery iQ 48 Dual-Fuel Range from appliance maker Dacor at 'CES: Unveiled,' the media preview for International CES, at the Mandalay Bay Convention Center January 5, 2014 in Las Vegas, Nevada. The tablet runs apps and controls all the functions of the oven via the touchscreen and the included Discovery iQ app and also connects into the home network. The world's largest consumer technology trade show, also known as the Consumer Electronics Show (CES), runs from Jan 7-10 in Las Vegas, Nevada. AFP PHOTO / ROBYN BECK (Photo credit should read ROBYN BECK/AFP/Getty Images)

US-IT-CONSUMER ELECTRONICS SHOW-CES

The Tinké connected health monitor by Zensorium is displayed beside an Android smartphone to which it can link via Bluetooth at 'CES: Unveiled,' the media preview for International CES, at the Mandalay Bay Convention Center January 5, 2014 in Las Vegas, Nevada. Tinké, an optical sensory device for smartphones monitors measures heart rate, respiratory rate, blood oxygen levels, as well as heart rate variability with a touch of the finger. The world's largest consumer technology trade show, also known as the Consumer Electronics Show (CES), runs from Jan 7-10 in Las Vegas, Nevada. AFP PHOTO / ROBYN BECK (Photo credit should read ROBYN BECK/AFP/Getty Images)

US-IT-CONSUMER ELECTRONICS SHOW-CES

Pink plastic pigs created with the Sculpteo 3D printing cloud engine are displayed at 'CES: Unveiled,' the media preview for International CES, at the Mandalay Bay Convention Center January 5, 2014 in Las Vegas, Nevada. Sculpteo produces and delivers mass produced 3D items for clients based on online ordering, providing cloud-based 3D printing with mass-customization. The world's largest consumer technology trade show, also known as the Consumer Electronics Show (CES), runs from Jan 7-10 in Las Vegas, Nevada. AFP PHOTO / ROBYN BECK (Photo credit should read ROBYN BECK/AFP/Getty Images)

US-IT-CONSUMER ELECTRONICS SHOW-CES

Chris George plays a video game wearing the PrioVR full body harness with 17 body and head sensors each containing a magnetometer, gyroscope and accelerometer to translate body motion into action by gaming characters, by Yei Technologies at the 'CES: Unveiled,' media preview for International CES, at the Mandalay Bay Convention Center in Las Vegas on January 5, 2014. The world's largest consumer technology trade show, also known as the Consumer Electronics Show (CES), runs from January 7 to 10. AFP PHOTO / ROBYN BECK (Photo credit should read ROBYN BECK/AFP/Getty Images)

US-IT-CONSUMER ELECTRONICS SHOW-CES

Bluetooth Fighting Mini Robots by European company BeeWi are displayed at 'CES: Unveiled,' the media preview for International CES, at the Mandalay Bay Convention Center January 5, 2014 in Las Vegas, Nevada. The small fighting robots connect via Bluetooth and pack infrared 'guns' inside of their eyes. They're operated by an app and can be moved with motion control, by tilting and turning your mobile device. The world's largest consumer technology trade show, also known as the Consumer Electronics Show (CES), runs from Jan 7-10 in Las Vegas, Nevada. AFP PHOTO / ROBYN BECK (Photo credit should read ROBYN BECK/AFP/Getty Images)

US-IT-CONSUMER ELECTRONICS SHOW-CES

Robert Price of TREWGrip LLC demonstrates a TREWGrip handheld rear-type keyboard and air mouse for Apple and Android tablets at the 'CES: Unveiled,' media preview for International CES, at the Mandalay Bay Convention Center in Las Vegas on January 5, 2014. The world's largest consumer technology trade show, also known as the Consumer Electronics Show (CES), runs from January 7 to 10. AFP PHOTO / ROBYN BECK (Photo credit should read ROBYN BECK/AFP/Getty Images)

US-IT-CONSUMER ELECTRONICS SHOW-CES

The Kolibree toothbrush, the world's first Internet-connected toothbrush, is displayed at the 'CES: Unveiled,' media preview for International CES, at the Mandalay Bay Convention Center in Las Vegas on January 5, 2014. The world's largest consumer technology trade show, also known as the Consumer Electronics Show (CES), runs from January 7 to 10. AFP PHOTO / ROBYN BECK (Photo credit should read ROBYN BECK/AFP/Getty Images)

US-IT-CONSUMER ELECTRONICS SHOW-CES

Members of the media work at the 'CES: Unveiled,' media preview for International CES, at the Mandalay Bay Convention Center in Las Vegas on January 5, 2014. The world's largest consumer technology trade show, also known as the Consumer Electronics Show (CES), runs from January 7 to 10. AFP PHOTO / ROBYN BECK (Photo credit should read ROBYN BECK/AFP/Getty Images)

US-IT-CONSUMER ELECTRONICS SHOW-CES

Journalists watch presentation of LG G Flex phone during the first press event 'CES Unveiled' at the Mandalay Bay Convention Center prior to the 2014 International CES in Las Vegas, Nevada on January 05, 2014. CES, the world's largest annual consumer technology trade show, runs from January 7-10 and is expected to feature 3,200 exhibitors showing off their latest products and services to about 150,000 attendees. AFP PHOTO / JOE KLAMAR (Photo credit should read JOE KLAMAR/AFP/Getty Images)

Newest Innovations In Consumer Technology On Display At 2014 International CES

LAS VEGAS, NV - JANUARY 05: The Tao Wellness WellShell (R) is pictured with a phone displaying information from the device at a press event at the Mandalay Bay Convention Center for the 2014 International CES on January 5, 2014 in Las Vegas, Nevada. The WellShell works as an isometric exercise device when a user applies pressure to it in various ways, and the information tracks fitness results with apps for iOS and Android. The device sells for about USD 200. CES, the world's largest annual consumer technology trade show, runs from January 7-10 and is expected to feature 3,200 exhibitors showing off their latest products and services to about 150,000 attendees. (Photo by Ethan Miller/Getty Images)