L'armée israélienne tweete en direct son attaque contre la bande de Gaza
TWITTER - Une guerre déclarée en 140 caractères? Ce n'est pas de la science-fiction. C'est même exactement ce qu'a fait, mercredi 14 novembre, l'armée israélienne en prévenant les combattants du Hamas de son attaque contre la bande de Gaza sur Twitter...
We recommend that no Hamas operatives, whether low level or senior leaders, show their faces above ground in the days ahead.

-- IDF (@IDFSpokesperson) November 14, 2012
"Nous recommandons aux combattants du Hamas, peu importe leur rang, de ne pas se montrer ces prochains jours"
Un message retweeté plus de 2000 fois et auquel la branche armée du Hamas palestinien, Al Qassam, a évidemment répondu... par un tweet:
@idfspokesperson Our blessed hands will reach your leaders and soldiers wherever they are (You Opened Hell Gates on Yourselves)

-- Alqassam Brigades (@AlqassamBrigade) November 14, 2012
"Nos mains bénies atteindront vos leaders et soldats partout où ils se trouveront (Vous avez ouvert les portes de l'enfer tout seuls)".
On connaissait déjà les reportages en direct sur Twitter par les reporters de guerre, on connaissait aussi les anonymes qui tweetent ce qu'il se passe sous leurs yeux, désormais, et c'est peut-être la suite logique, l'armée s'y met aussi.
Dans toute guerre, les différents camps ont toujours utilisé les nouveaux médias qui s'offraient à eux. On pense évidemment aux discours radiophoniques d'Hitler ou à l'appel du 18 juin du Général De Gaulle, mais aussi à la guerre du Koweit, pendant lequel l'armée américaine distillait les images de ses "frappes chirurgicales". Ou, encore plus récemment, l'influence d'Internet dans les révoltes arabes. Avec la montée en puissance de Twitter ces derniers mois, il était logique que les protagonistes finissent par en faire un élément de médiatisation (ou de propagande, selon ses convictions).
Et le moins que l'on puisse dire, c'est qu'Israéliens et Palestiniens maîtrisent l'outil. Revue en détail des règles qu'ils appliquent à la lettre.
1. Bien maîtriser les codes du réseau
La guerre en 140 caractères est faite de # (hashtag, ou mot-clé), de @ (pour s'adresser à quelqu'un en particulier) et de twitpics (photos) comme n'importe quel tweet d'un fan de Justin Bieber ou de Lady Gaga. Outre les subtilités de Twitter, l'objectif est plutôt simple, à savoir tenir au courant en temps réel les internautes de l'avancée du conflit:
9:00 Al Qassam shelling occupied Ashdod with 7 Grad missiles#gaza #GazaUnderattack #Israel #ShaleStones #Hamas #Egypt #Libya

-- Alqassam Brigades (@AlqassamBrigade) November 15, 2012
"9:00 Al Qassam bombarde la ville d'Ashdod occupée avec 7 missiles Grad"
Autre priorité: trouver des témoins présents sur place et retweeter (transférer depuis son propre compte) leur témoignage.
In a bomb shelter in Netivot, after 55 rockets fired in the past few hours alone. Not that anyone cares #Hamas #rockets twitter.com/avitalrachel/s...

-- Avital Chizhik (@avitalrachel) November 14, 2012
"Dans l'abri de Netivot, après 55 roquettes lancées dans les toutes dernières heures. Si ça intéresse quelqu'un."
2. Être rapide et efficace
Pour bien tweeter, il faut aussi tweeter vite. Ainsi, lorsqu'on se lance dans une "tweet-conflit", il faut parvenir à "installer" son hashtag, c'est-à-dire son mot-clé, qui sera utilisé par tous ceux qui souhaitent discuter du sujet. Dans ce cas précis, le Tsahal utilise le hashtag #PillarofDefense (pilier de la défense) alors que le Hamas palestinien emploie #ShaleStone (schiste, ardoise). Le nom de l'opération israélienne, Pillar of defense, semble au moment où cet article est publié bien plus efficace que le second: lors des dernières 24 heures, 1811 tweets le mentionnent.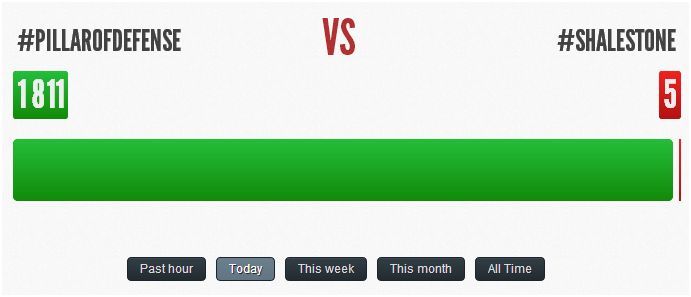 Une infographie réalisée grâce au site Hashtag Battle
Et, comme dans toute bataille, il faut savoir occuper le plus rapidement possible le terrain.
#Israel's military kills #Palestinian children in cold blood in #Gaza,shelling civilians & populated areas #Humanrights twitter.com/AlqassamBrigad...

-- Alqassam Brigades (@AlqassamBrigade) November 15, 2012
"L'armée israélienne tue les enfants palestiniens de sang froid en bombardant les territoires occupés par les civils."
3. Maîtriser tous les autres outils du web
Pour mener à bien une guerre virtuelle, un compte Twitter ne suffit pas. L'armée israélienne a donc investi dans une page Facebook, dans un blog qui ressemble à s'y méprendre à un vrai site d'informations, dans un compte YouTube pour poster des vidéos de ses attaques, dans un compte Flickr pour mettre en ligne ses images. La branche armée du Hamas a elle aussi un "site d'informations" dont l'apparence est tout aussi trompeuse.
Le site de l'armée israelienne: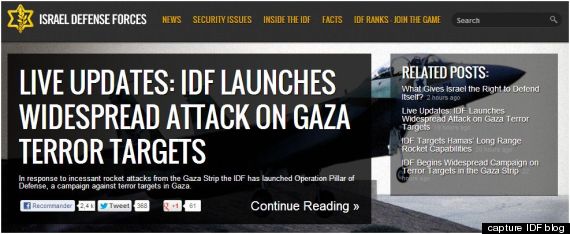 Le site palestinien: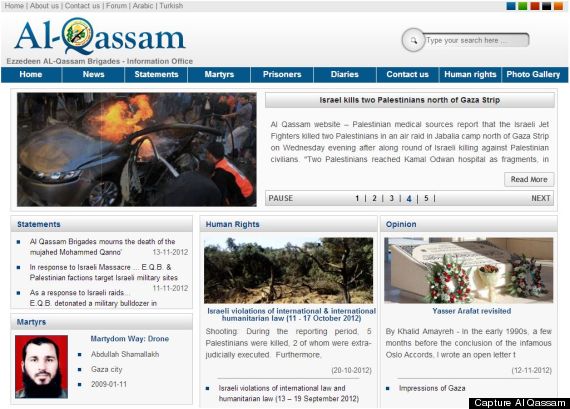 Mais que les internautes ne soient pas dupes, ce petit jeu de tweets pourrait bien avoir des conséquences tout sauf virtuelles. "Que se passe-t-il quand l'armée devient un média?", se demande à juste titre le site techno Gigaom.com. Cela change évidemment notre perception de la guerre. Sur les réseaux sociaux, pas de hiérarchisation, les tweets apparaissent au moment où ils sont publiés. La seule différence? On en oublierait presque qu'un tel tweet-clash entraînera invariablement des morts de civils et de combattants sur place.